Last month, myself and 4 other paddlers, spent a week paddling in Mendocino County, which is located in Northern California. While rock gardening was certainly the highlight and main reason for our trip, as we don't have that sort of rocky coast here in North Carolina, we also got some surfing in and got to explore the amazingly beautiful coastline.
Previously, I had spent a week in Baja California rock gardening, so I had a bit of experience, but I still learned a lot and as always came away wanting to become a better paddler, in part due to our instructors and hosts, Cate and Jeff of Liquid Fusion Kayaking.

Wildfires in California
Just prior to our trip, the California Camp Fire, which would become the deadliest fire since 1918, as well as another fire near Mendocino, were discovered and had everyone a little worried.
We weren't sure if it would impact our trip and also felt bad that we were here enjoying such a wonderful place, while so many others were fighting for their lives or loosing all their possessions.
Upon arriving in Sacramento, a layer of thick yellow smoke appeared creating an eerie scene.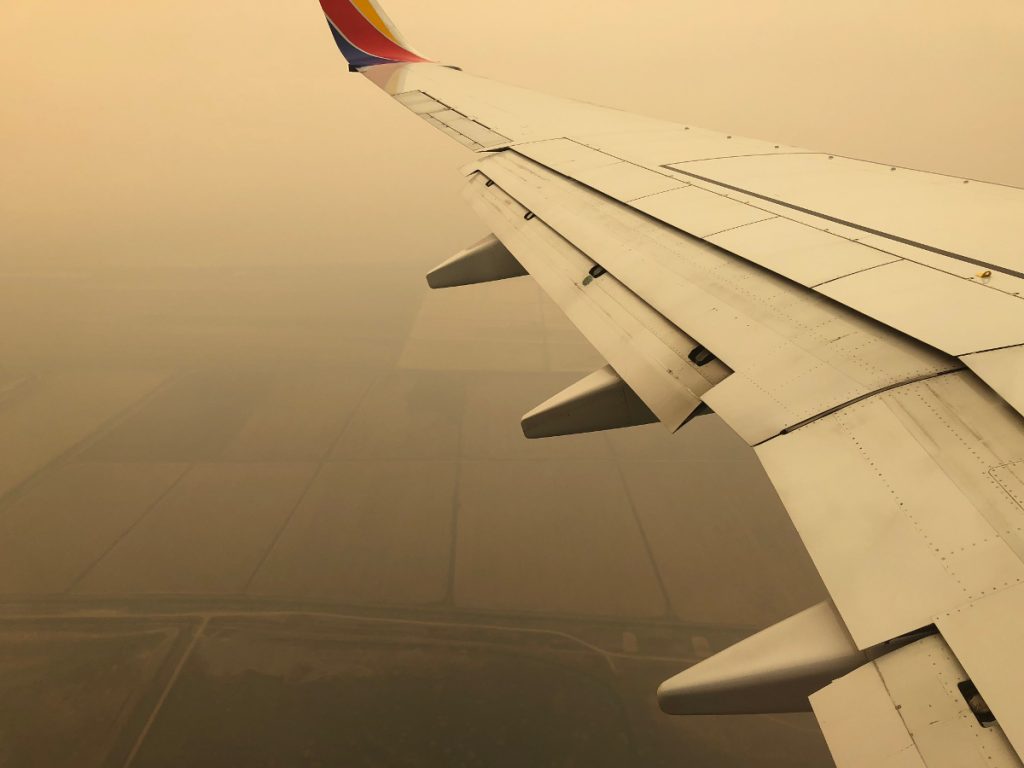 Trip Logistics
The three of us from the Raleigh area all caught the same flight into Sacramento airport, picked up the rental van, and then headed to the hotel. The other two paddlers arrived a little before us. We had all arranged to stay at the same hotel and so after settling in, headed to a local Mexican restaurant to eat supper.
The next morning, we got a relatively early start and began heading North. We decided to make a stop at Hendy Woods State Park, which is home to some 'young' 700+ year old redwoods. The park was a few minutes out of the way, but it was a pleasant drive and had some enormous redwoods.
We made a loop around one of the trails and then hopped back in the van to finish our trip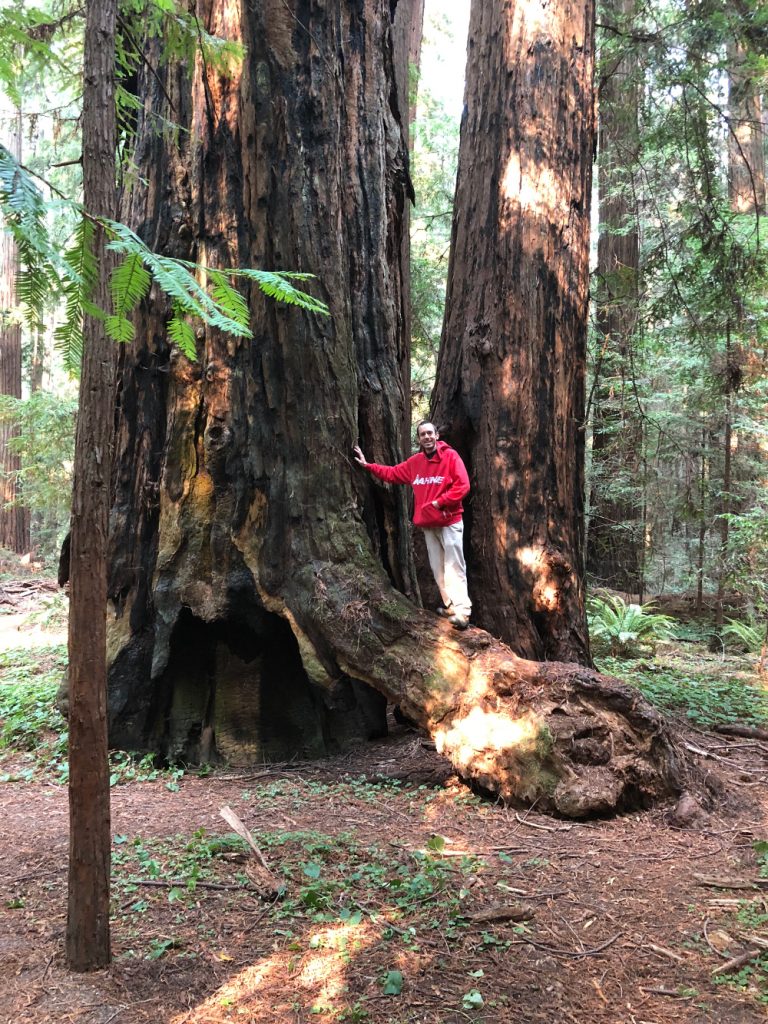 Our trip organizer, who no doubt spent a great deal of time planning everything and was instrumental in making the trip run smoothly, rented an AirBnB house just outside the city limits of Fort Bragg California for us to stay in.
The 4 bedroom house was located along Pudding Creek, near the The Pudding Creek Trestle, and was very spacious. It had a large backyard and very big open living room. We met with the owner and dropped off our gear.
After that, we headed over to Liquid Fusion Kayaking, so we could meet our hosts, get outfitted for boats, and sign the necessary paperwork absolving them of responsibility of injury.
The Boats
Most of our time paddling, was spent in the Dagger Stratos, the small version for myself, while a few of the others had the larger version.
I've paddled a Dagger Alchemy extensively, which is similar, but a little shorter than the Stratos. This was my first time paddling a Stratos and I really liked it. Jeff had spent some time custom outfitting mine with white water style foot pegs, straps to hold the hatches in place, as well as a few other mods.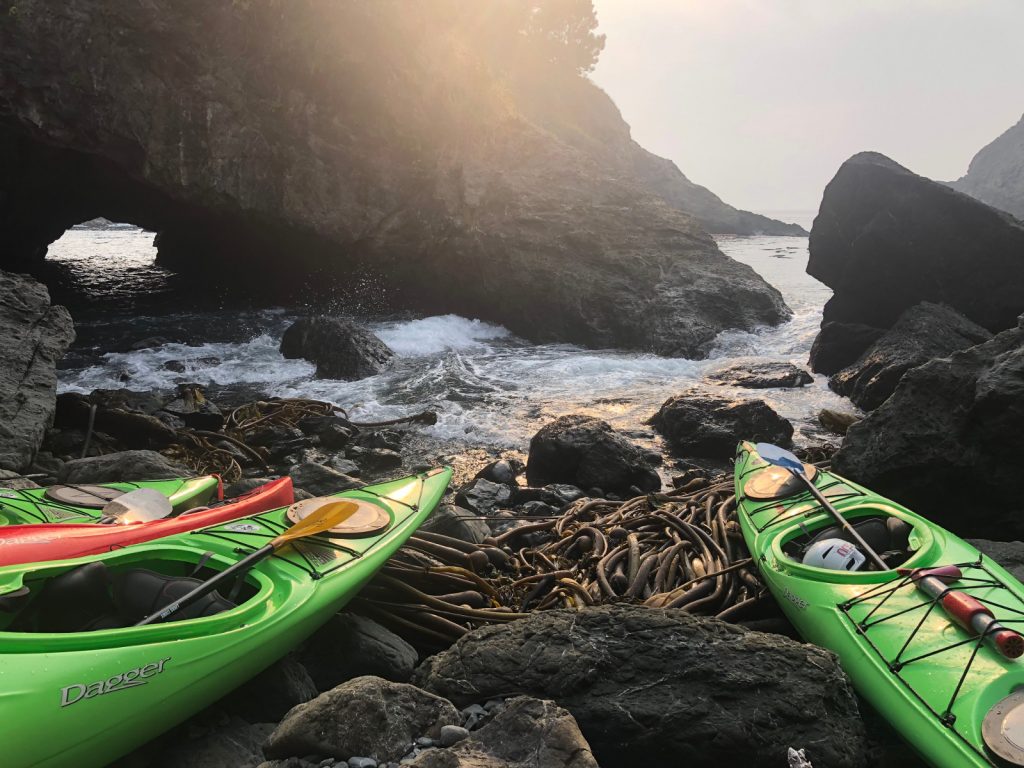 Later in the trip, I would get to paddle Cate's Stratos, which is literally one of a kind. Jeff and Cate through their relationship with Dagger had two special versions of the Stratos made, which had more rocker, whitewater seat/thigh-braces/foot pegs, and improved structural support. The improved structural support was a big one for me, as it fixes a major issue I've written about before that the Alchemy suffers from.
For our two surf days, I paddled a Dagger Axiom on one day and a Necky Jive the other.

Our Hosts
Our instructors and hosts were Cate and Jeff at Liquid Fusion Kayaking.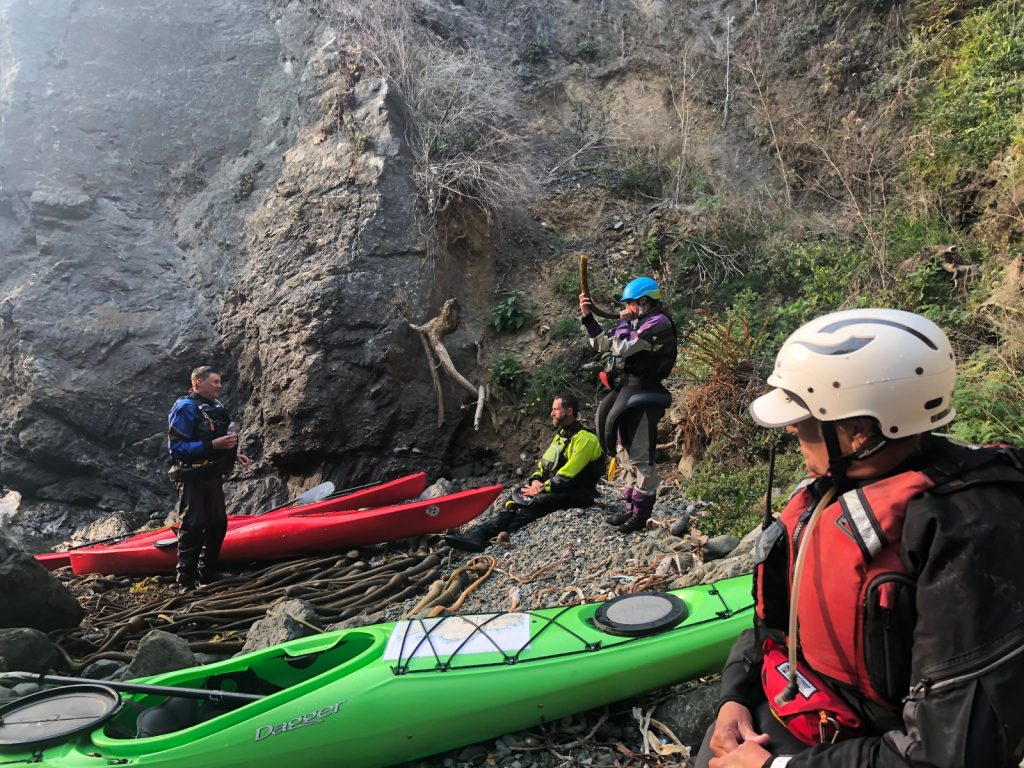 Both are exceptional paddlers and great coaches, complementing each other very well. Their local knowledge and skill helped make this an awesome trip and despite being in a new place, doing new things, I never felt uncomfortable, as it was clear they were extremely knowledgeable about the area and sea kayaking.
As is usually the case when you paddle with people that are more skilled than you, I came away from the trip only wanting to become a better paddler myself.
They also did a great job with photos, so a number of the action shots you see on the water are from them and of course, all rights/credits/no reuse without permission/etc apply to all photos!
The Noyo Headlands
Each day of the trip, we started with a brief meeting at the Noyo Headlands park, which overlooks Noyo Harbor.
It was only a few minutes from our AirBnB and for the days where we paddled in Noyo Harbor, it provided a neat reference mark for what we would be doing that day. For other days, it just provided some amazing scenery.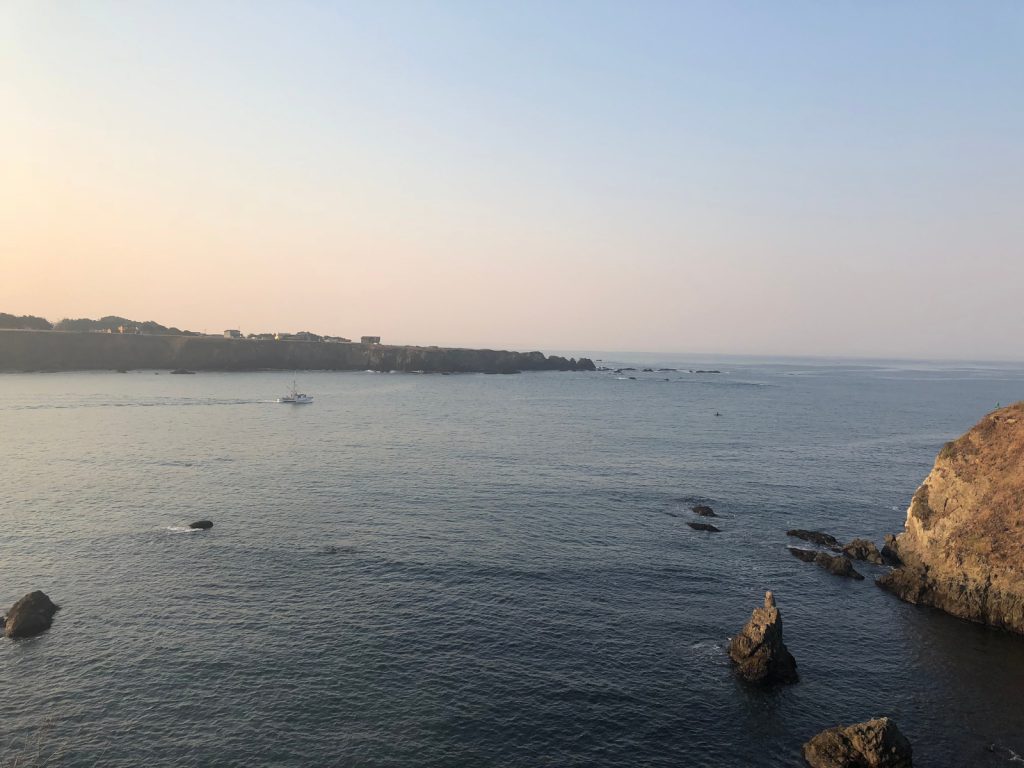 Day 1: Safety Shakedown Paddle with Sean Morley
Our first day was a bit of a shakedown trip, as Cate and Jeff wanted to see where we stood skill wise as a group and individuals, as well as go over some basics that would be the foundation for our trip.
The night before, they had told us we would have a guest visitor with us that day, who turned out to be Sean Morley, a well known sea kayaker and instructor. It turned out that Cate and Jeff were getting a renewal for one of their coaching certifications and Sean Morley was there to observe them.
In addition to Sean, we had another person with us, Gene, who is planning on paddling the coast of California for charity. He is also making a movie and so requested, and was obliged, that we let him film us for a short segment in his movie. Gene didn't paddle with us, but instead set up strategically over the course of a couple days, so he could get some footage.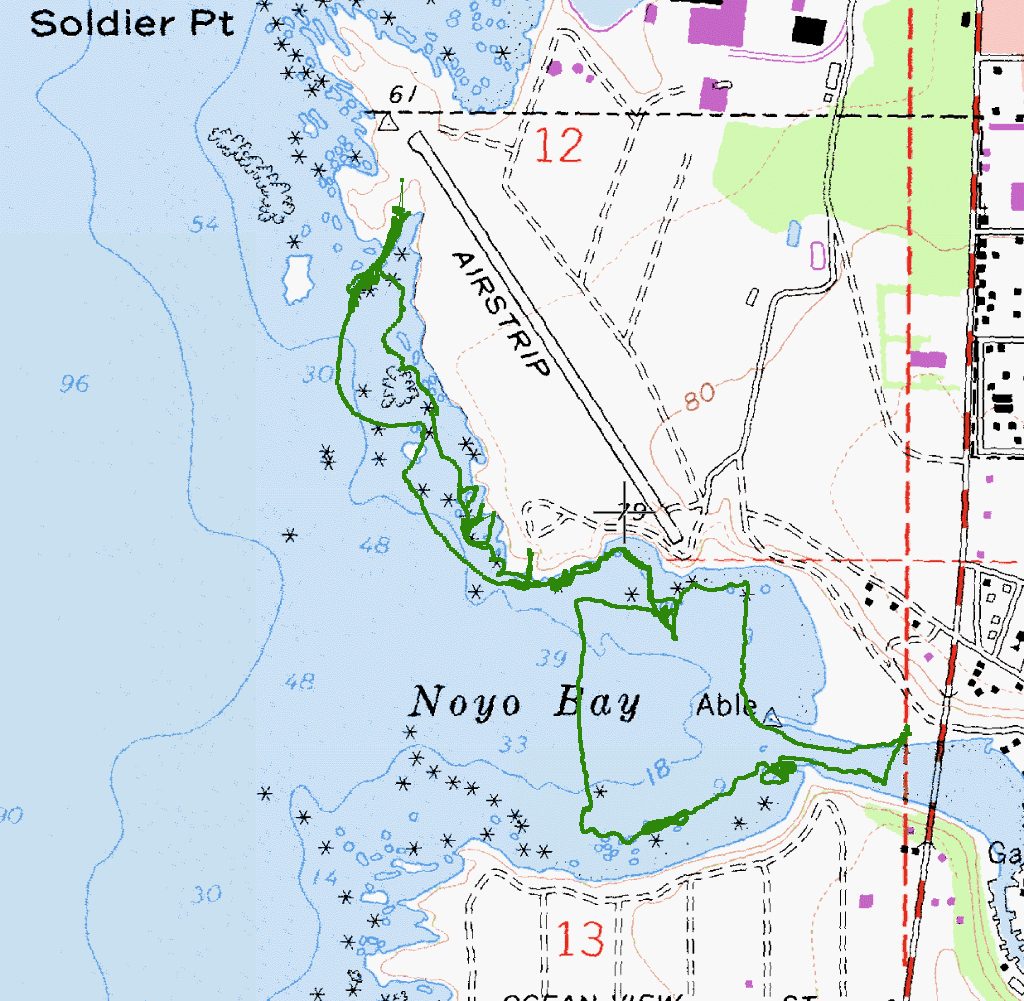 We put in Noyo Bay, under the Highway #1 Bridge, then paddled into the bay, before paddling North out to a small cove where we practiced some rolls and rescues.
We then paddled back into the harbor and did a small bit of rock gardening around some of the features, as well as explored some neat caves.
Day 1 Stats:
Total Distance: 5.2 Miles
Time on Water: 6.5 Hours
Average Speed: .8 MPH
Moving Average: 2.2 MPH
Top Speed: 7.5 MPH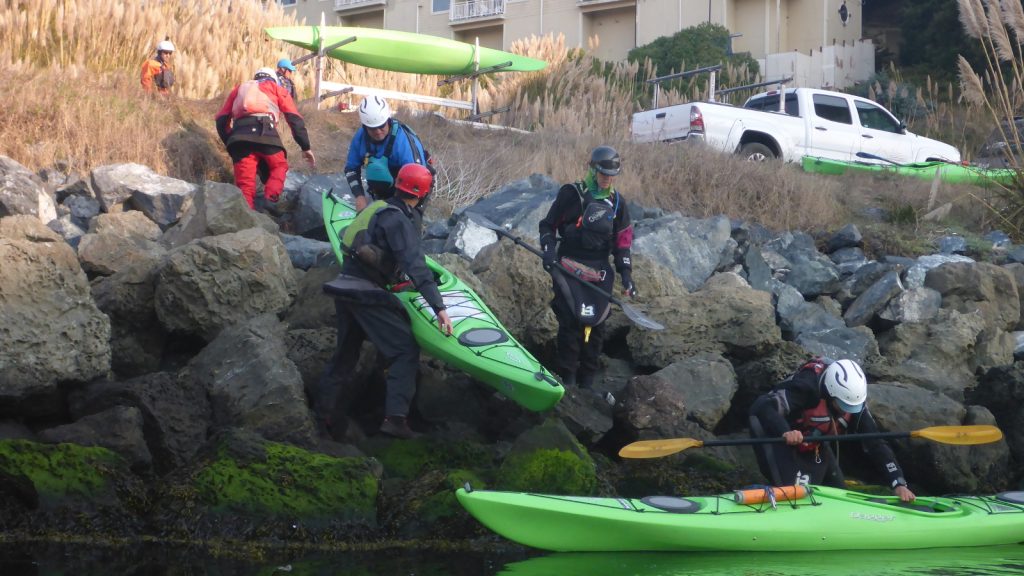 Day 2: Exploring Caspar Anchorage and Russian Gulch
On our second day of paddling, after meeting at the Noyo Headlands, we headed to Caspar Beach, which is part of Caspar Headlands State Park. In the past, the area was used to anchor ships transporting lumber, so you can still see large staples in some of the rocks, which were used to anchor the ships.
We paddled around Caspar Anchorage, then South down towards Russian Gulch. Along the way, we stopped to explore caves, as well as playing in slots and pour-overs.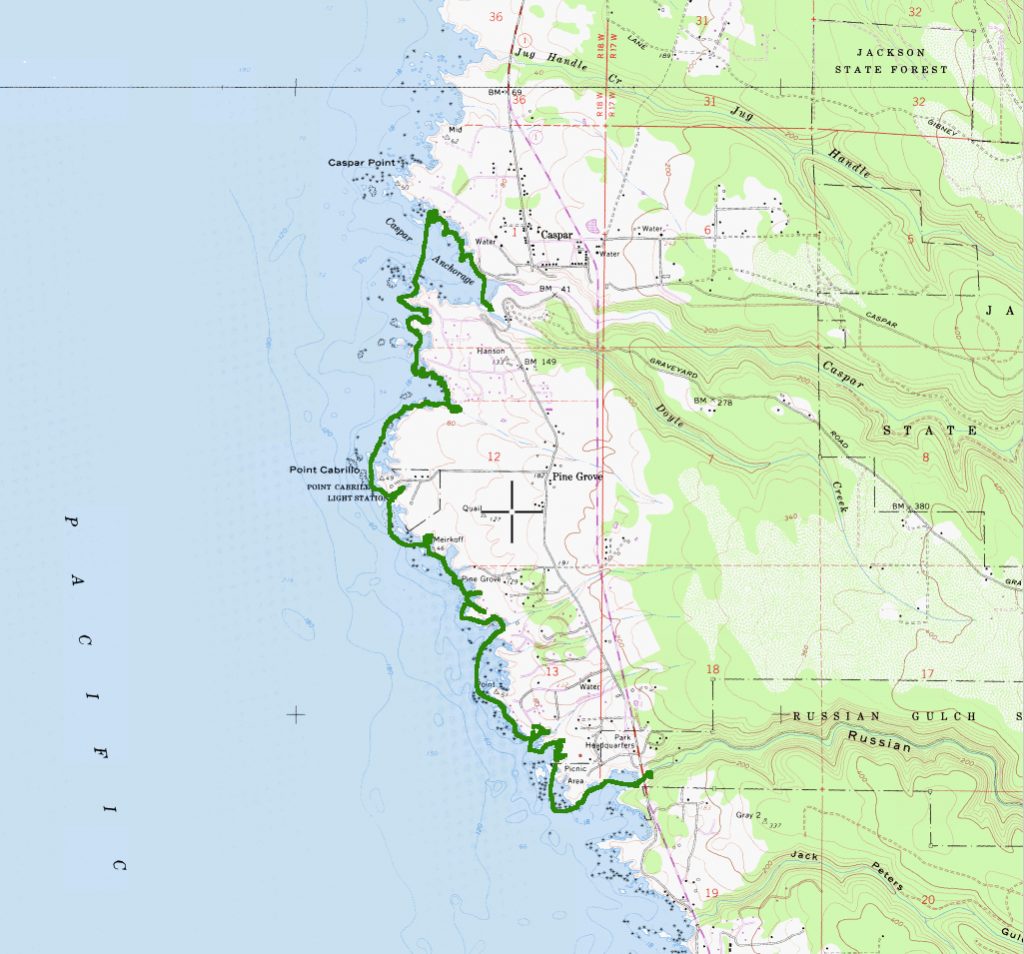 One of the high points for me was getting tossed around in a narrow opening near a cave. We were taking turns backing into the cave and when it was my turn, a decent sized set of waves rolled in, creating some very fun and dynamic water.

There was also some amazing scenery and really fun features. As far as scenery goes, this area was one of my favorite, especially the bridge at Russian Gulch. It was very scenic and an awesome place to explore.
Day 2 Stats:

Total Distance: 8.9 Miles
Time on Water: 6.5 Hours
Average Speed: 1.3 MPH
Moving Average: 2.3 MPH
Top Speed: 7.5 MPH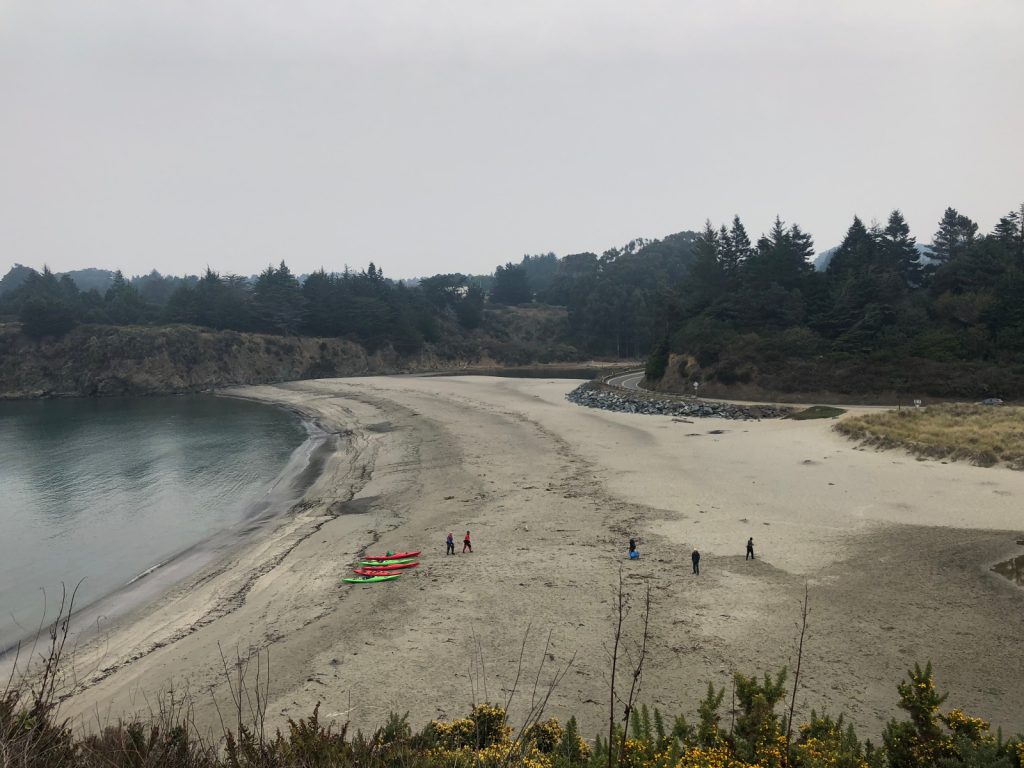 Day 3: Exploring Noyo Bay
On our third day, we launched from a beach near the Liquid Fusion shop, which is located a little over a mile up the Noyo river. They have a nice beach to launch from near the shop.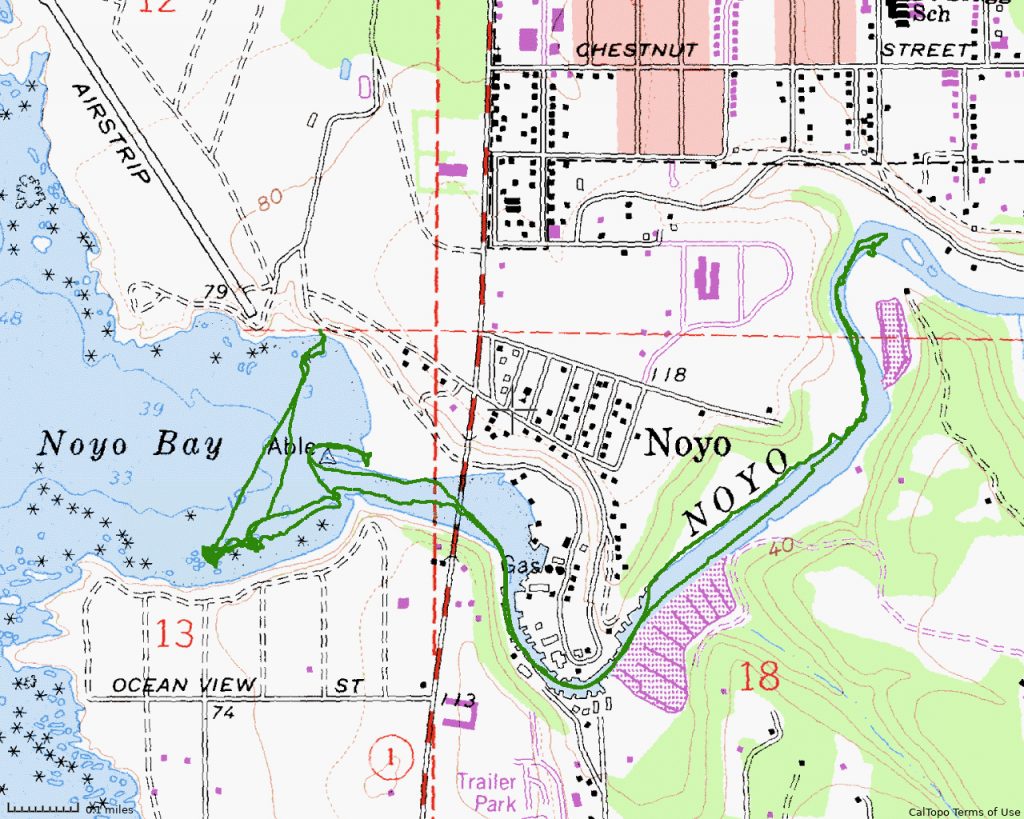 Just as we were about to launch, a deer crossed the stream right in front of us and hopped up the bank.
After paddling into the bay, we rounded the sea wall and landed on the nearby beach to have brief meeting and snack. We then headed over to some nearby rocks to do some rock gardening.
After playing at a feature called the toilet bowl for awhile, we headed back to the beach for lunch.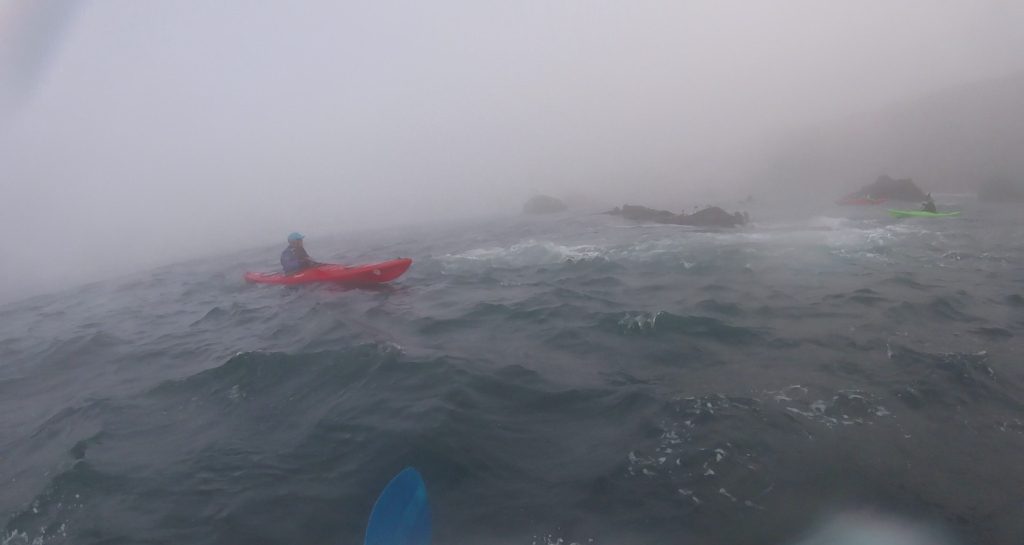 After lunch, the fog rolled in on us while we were playing, which was a neat experience and after some more play at the toilet bowl and nearby rocks, we headed back up the Noyo River.
Day 3 Stats:
Total Distance: 6.2 Miles
Time on Water: 5.35 Hours
Average Speed: 1.2 MPH
Moving Average: 2.5 MPH
Top Speed: 5.5 MPH
Day 4 – Short Boat Day
Day four was the short boat day, so we switched from the Stratos's to the whitewater boats we tested fitted on the first day. For me this meant a Dagger Axiom.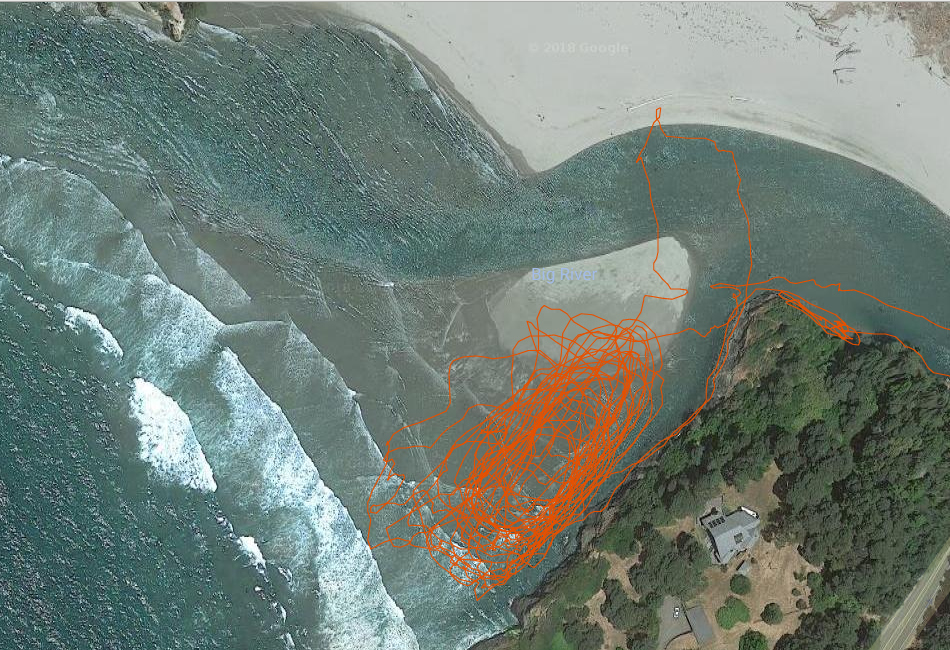 While I own a whitewater boat and have some whitewater experience, I am far more comfortable in a long boat. So, I was a little apprehensive about switching to the short boats and unsure of how much I would enjoy these two days.
As I would soon find out, surfing in whitewater boats is AWESOME!
This was a half day, so in the morning, several of us drove out to the Pudding Creek Trestle Bridge and checked out some of the amazing coastline. We then headed to the headlands around lunch time for a quick meeting, before driving out to a tidal river head South of Fort Bragg. We paddled a short distance to the river head and then surfed in a shallow area where there was some nice shoaling near the mouth of the river.
Jeff and Cate timed it so that the tide was flowing in while we were surfing. As a result, if anyone came out of their boat, they would likely get pushed back into the river, where the water was calmer.
There are several cool things about surfing in whitewater boats compared to long boats, one of the biggest being that you can go from turned around looking at a wave to in surf-position in a second. With longer boats, turning and getting setup is a much bigger issue.
The increased maneuverability is also apparent when surfing, as I was able to turn and maneuver while on a wave much easier.
As I would find out the next day, a large part of this initial success was due to the boat, but I was able to easily catch several nice rides and only flipped once, when I was not paying attention:
In addition to some great surfing, we also got to experience a very nice sunset, which was the perfect way to end the day.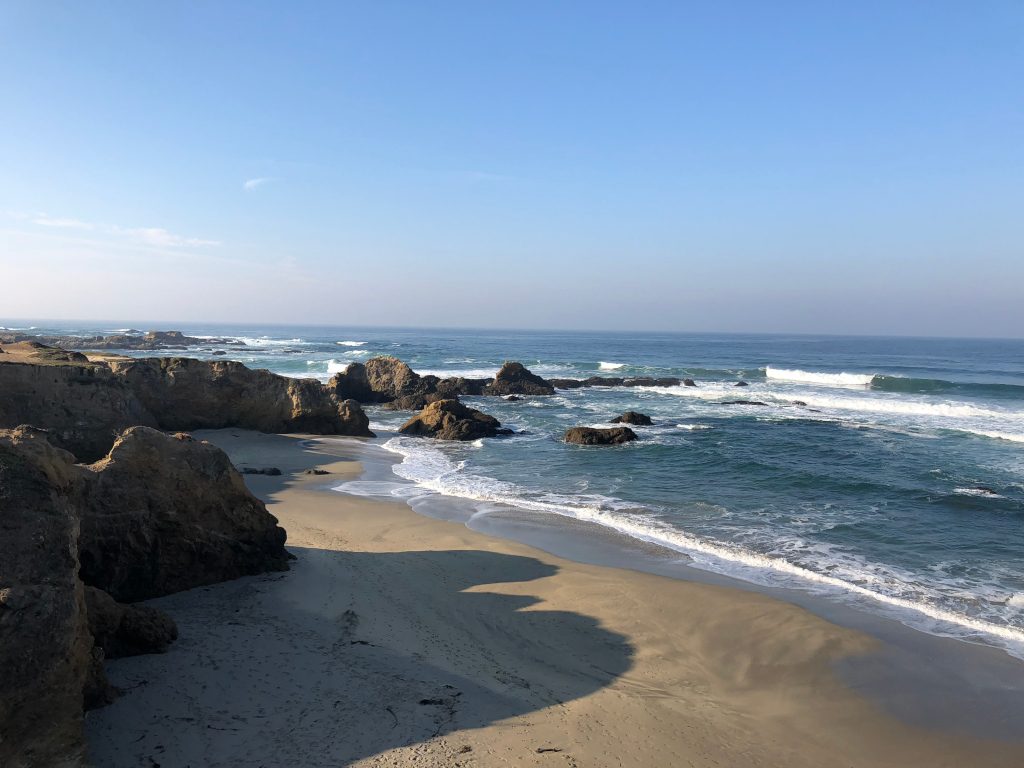 Day 4 Stats:
Total Distance: 5.9 Miles
Time on Water: 5.66 Hours
Average Speed: 2.2 MPH
Moving Average: 2.9 MPH
Top Speed: 8.1 MPH
Day 5: The Trifecta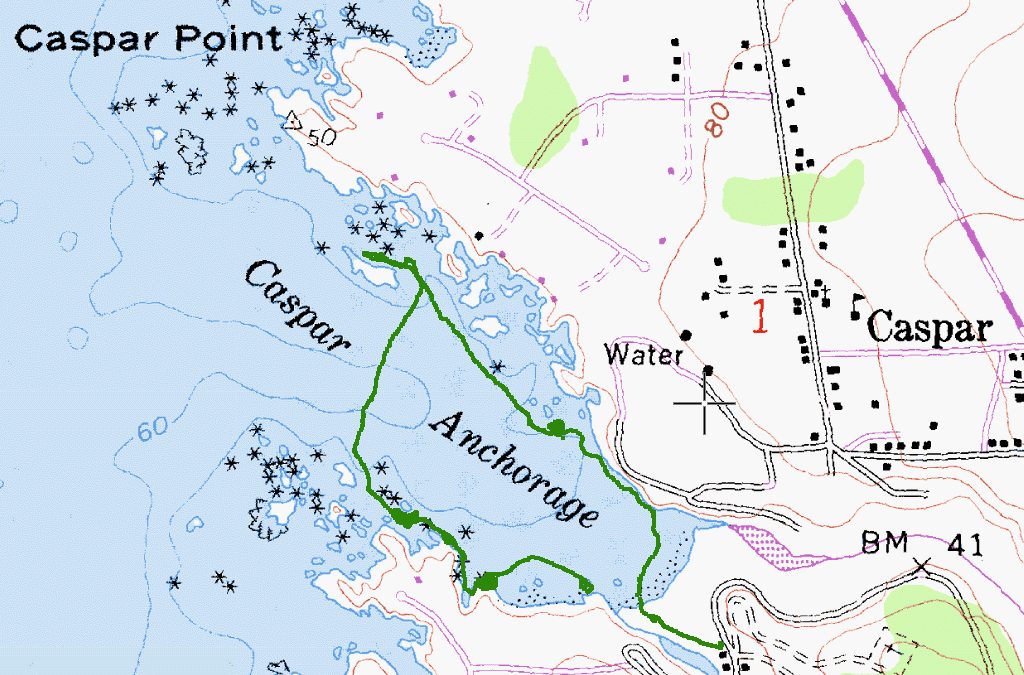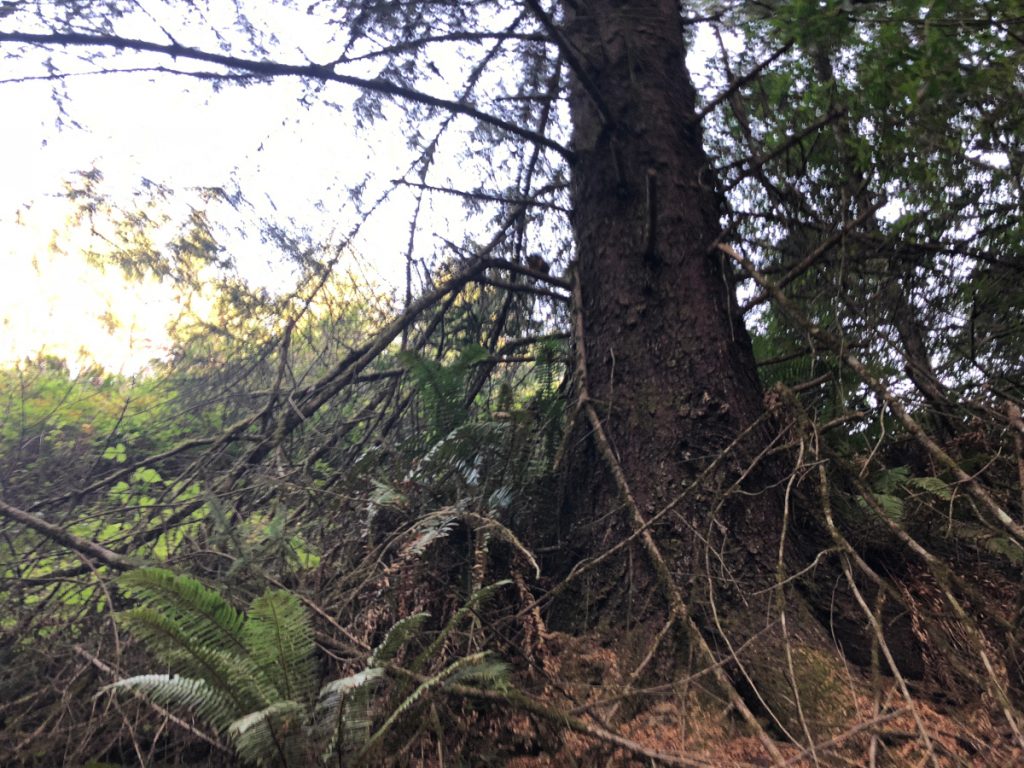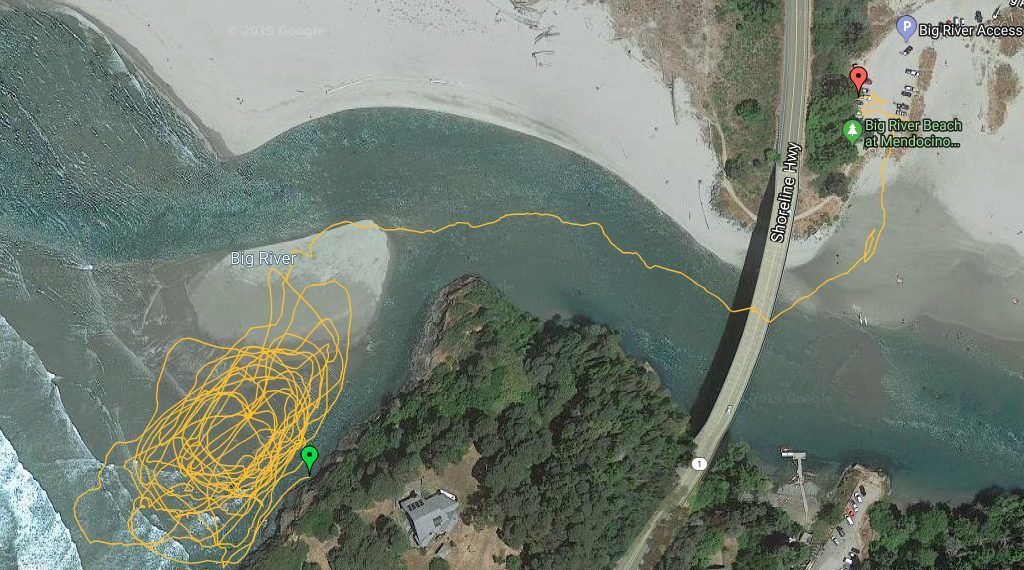 Since the previous day was pretty short, everyone was well rested for day five. We were in the short boats again and the plan for the day was to start out in Caspar Anchorage, take a nature hike through the nearby woods, then move on to do some surfing near Mendocino Bay, making it a trifecta.
We played a bit at several fun features round Caspar Anchorage: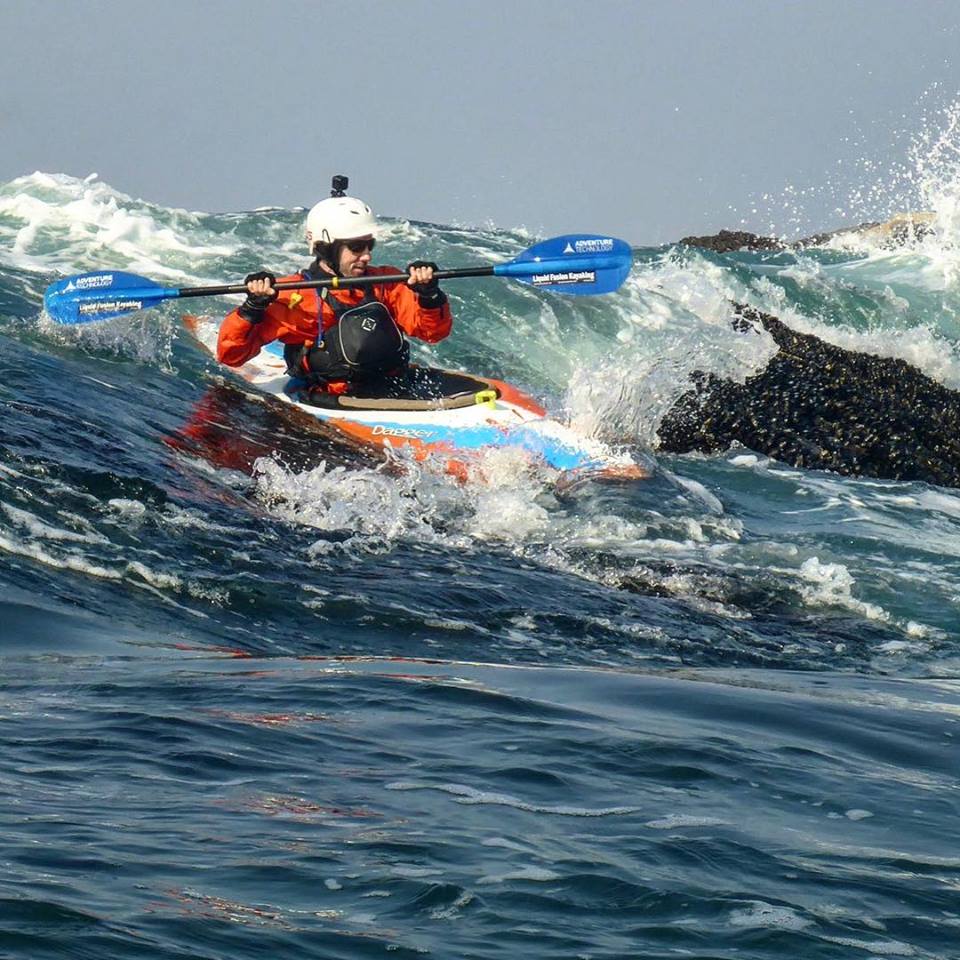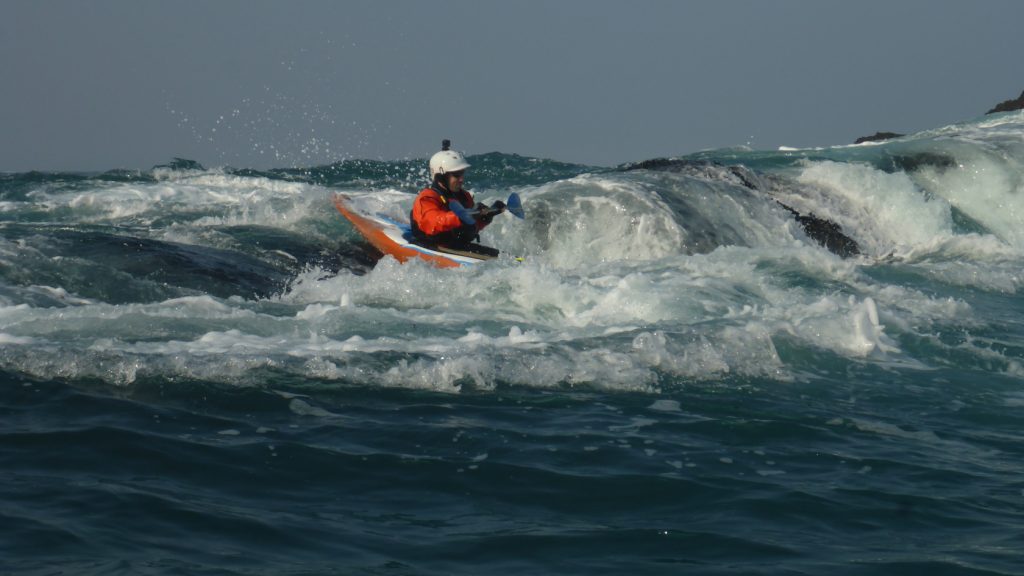 One of my favorite experiences of the day was a feature called the washing machine. Even though it is a little counter intuitive, right up close to the wall is where you want to be. Jeff and Cate got a little nervous as people were getting a bit too far away from the wall, so after myself, Jeff, and another paddler made it out, we pretty much turned around and headed back right away with the rest of the group hanging back a bit further:
After the nature walk, everyone was feeling a bit tired, so we grabbed a cup of coffee before heading to Mendocino Bay.
The previous day I had surfed in a Dagger Axion, which was very easy to surf and very forgiving, as it has a lot of volume and has rounded edges.
However, for the last session of the day, I switched to a Necky Jive, which is a lot more slicey.
As a result, I made up for all the roll practice I missed the previous day, as I struggled to keep the bow from getting buried:
Day 5A Stats (Caspar Anchorage) :
Total Distance: 2.5 Miles
Time on Water: 1.66 Hours
Average Speed: 1.5 MPH
Moving Average: 1.6 MPH
Top Speed: 8.5 MPH
Day 5B Stats(Mendocino Bay) :
Total Distance: 2.95 Miles
Time on Water: 1.66 Hours
Average Speed: 2 MPH
Moving Average: 2.47 MPH
Top Speed: 10.57 MPH
Day 6: Russian Gulch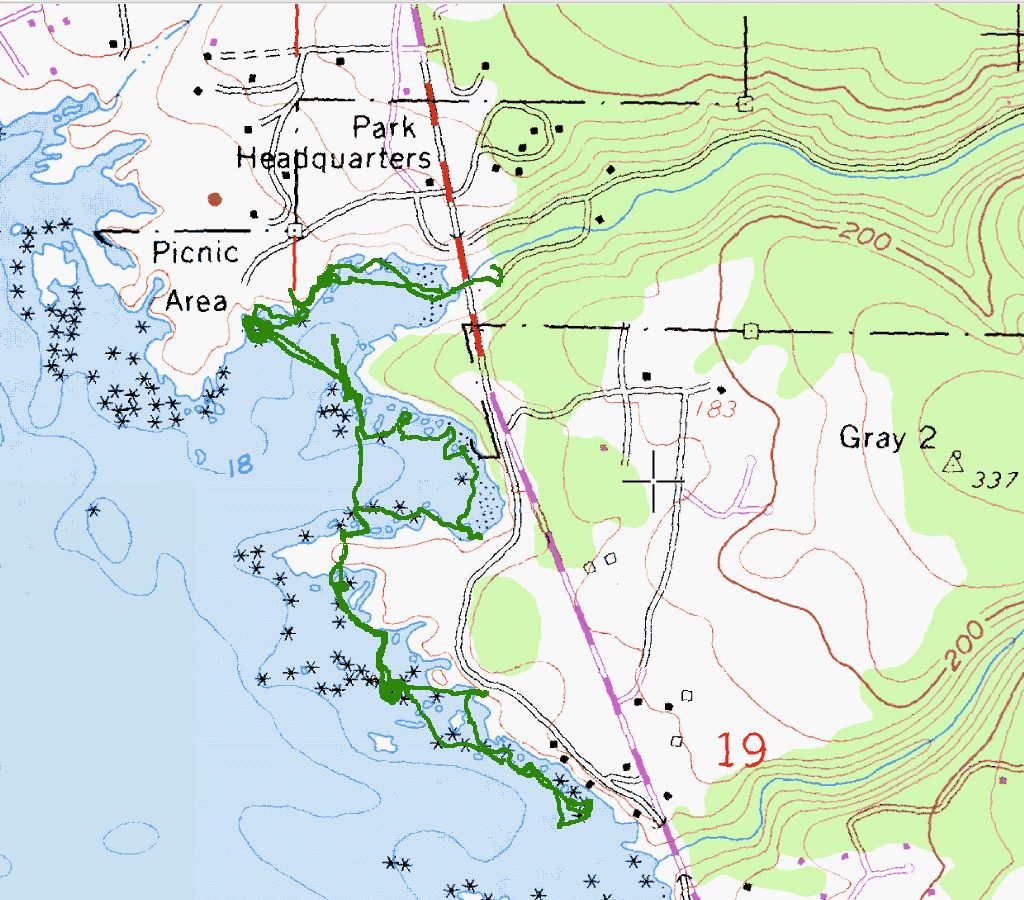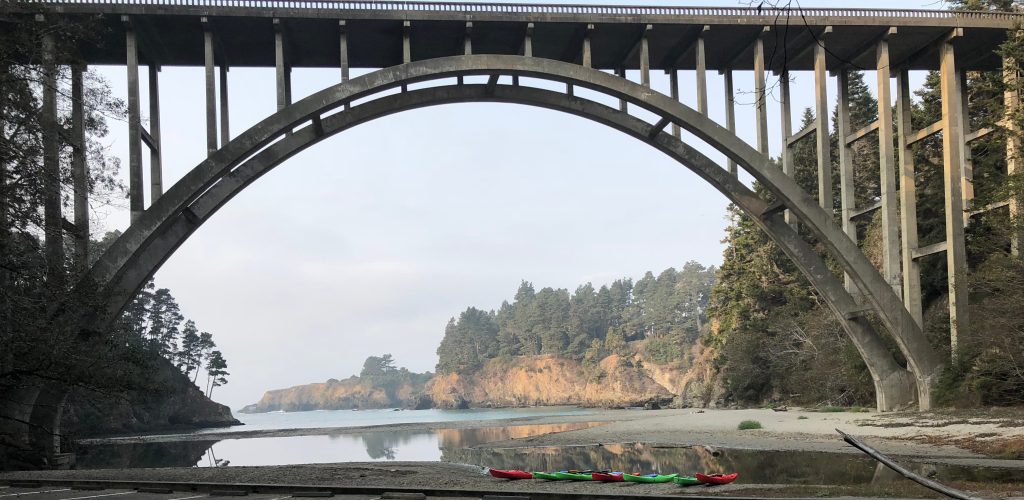 For our final paddling day, we headed South to return to Russian Gulch. This was a great mix of a beautiful paddling environment and some really enjoyable features.
In addition to some really fun paddling, we also had a few rescues during this portion of the trip.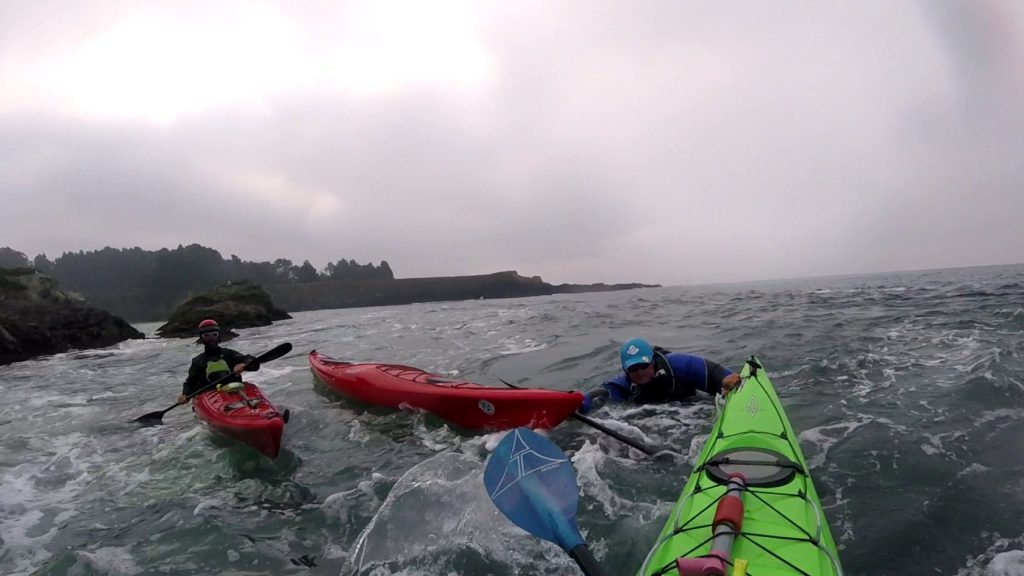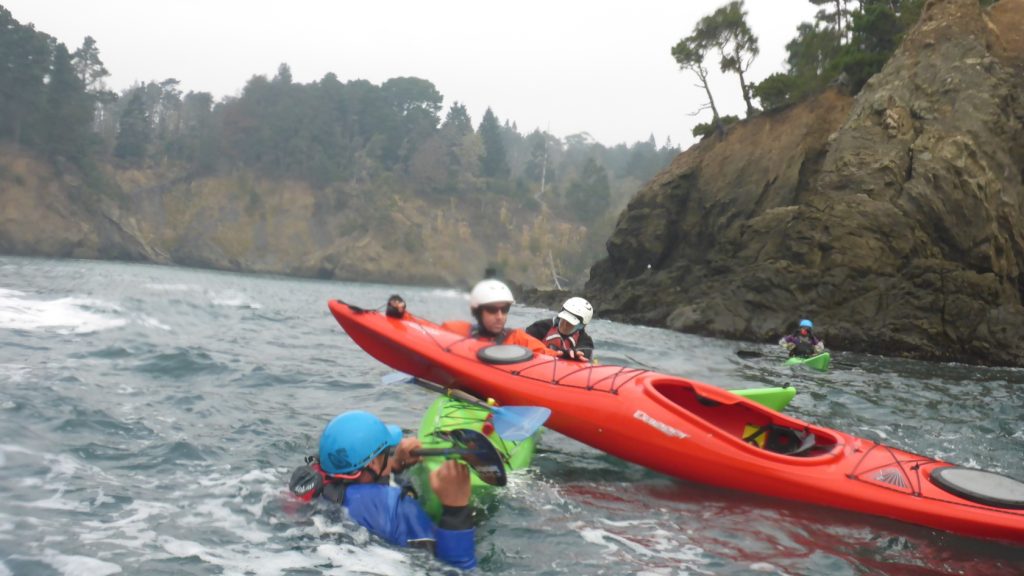 Stuck between a rock and a hard place
While enjoying some rock gardening, a big set came through. One of our paddlers came out of their boat, while another got slammed back into the rocks a bit. Fortunately, other than a few scratches, both paddlers were fine.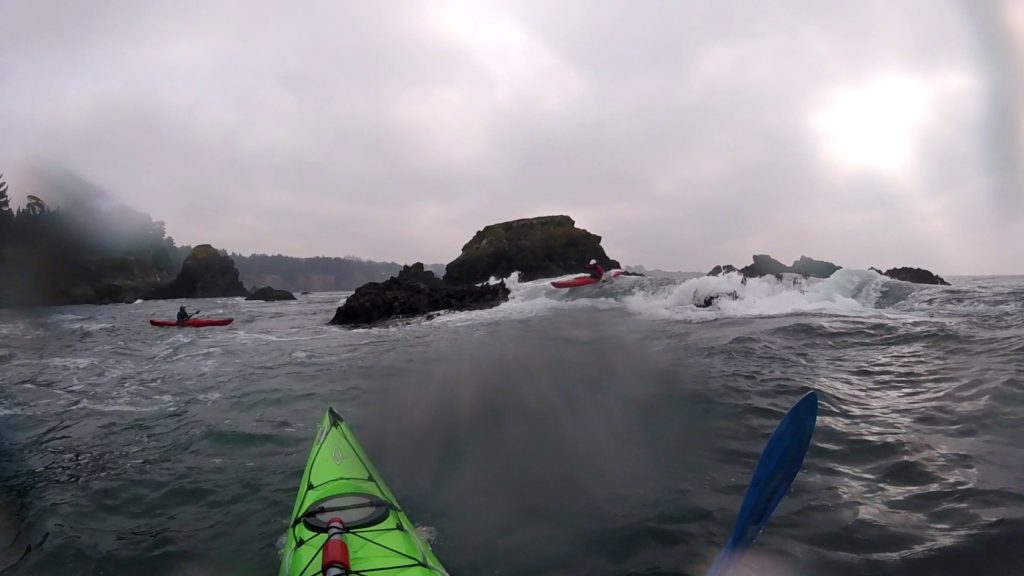 Day 6 Stats
Total Distance: 5.7 Miles
Time on Water: 5 Hours
Average Speed: 1.1 MPH
Moving Average: 1.48 MPH
Top Speed: 22.51 MPH