I have owned two Werner Cyprus Paddles, which is one of their nicer carbon fiber high angle paddles. I love the design of the paddle, it has a great weight, and the added buoyancy of their carbon blades is great.
However, in what is relatively short order given the cost of these paddles, both have had problems with the locking ferrule system, which holds the two ends of the paddle together.
I bought my second Werner Cyprus assuming that I had been too rough or careless with the first and that this was the reason the button failed and would no longer work to lock the paddles together. The second one ended up failing similarly and like the first one, the button just never seemed to work that well.
As a result of my experience, in addition to talking with others who have faced the same issue with Werner's two piece paddles, I think it is likely less to do with me being careless and more that their adjustable ferrule system is poorly engineered or designed.
The Problem With Werner Two Piece Paddles

Ultimately, both my Werner paddles failed in more or less the same way.
The button stopped pushing up on its own, would no longer reliably pop-out and lock when you pushed the paddles together, and sometimes it was nearly impossible to get the paddles apart.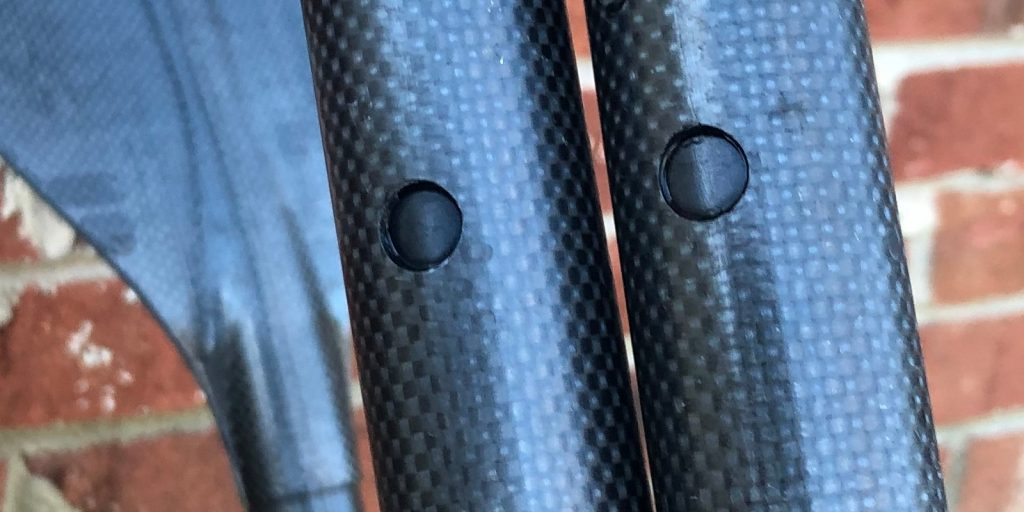 After only a few paddles, I noticed something was wrong with the button on my first paddle and reached out to the guy who I purchased it from, a Werner Dealer, who provided instructions on how to wash out the paddle.

This was my first high-end paddle and admittedly I was a bit rough on it. Although it got washed well with clean water after each use, I hadn't really understood how sensitive the button was, so had pushed it down too far a few times(which is a no-no with Werner paddles). I also had to do a repair on the blades after doing some whitewater with it and banging it on a rock.
So, when it got to the point where it wouldn't consistently lock on it's own, I decided to buy a new one believing that I just had done a poor job taking care of it.

I was much more careful with my second Cyprus, making a point to never push the button down further than necessary(because it will get stuck) and never taking it to the pool, because I thought maybe it was the chlorine that caused the spring/button not to work on the first paddle.
I got a bit more use out of this one, but it ended up failing in the same manner as the first.

I think the problem is several fold:
Internal Spring: The spring is either too weak and/or made of poor quality metal for a coastal environment.
There is no guide for the button, so if you depress it further than the depth of the shaft(only a few millimeters), it gets stuck and won't come back up(this is compounded by spring issues)

I believe as you put the two ends together, the button needs to be depressed a little bit and is supposed to move down slightly on it's own and then pops back out locking. However, the guide/internals pieces that force it back up don't appear to work well.
The above are my best guess after having given the issue some thought and discussing it with other paddlers, but it is possible there are other things going on.
The end result though is that I have a two-piece paddle that I just tape together, as a piece of electrical tape works better and is more reliable than the Werner Ferrule System.

The Paddle is Fine, You Just Suck at Washing Out Your Gear

If you do any research on this issue or talk to people about it, undoubtedly you are going to get advice on how the paddle needs to be washed out after each use and depending on how close you are to the person, how poorly of a job you are doing.

In fact, when I contacted Werner about this and more or less provided all the same info in this posting, they started out the email with:
I am sorry that you have been experiencing some issues with salt and grit in your ferrule systems.
It isn't surprising they lead the email with a warranty get out of free card and while it is entirely possible I just suck at washing out my gear, I am one of the more anal people I know about washing my gear.
All my gear gets washed out after each use with clean water as soon as is possible, which is often less than 1 hour after I get off the water. Doesn't matter if it is lake, river, pool, or salt water, I spray everything down after each paddle.

After my first Werner Paddle failure, I was even more diligent about caring for my paddle. I generally use this process:

Spray paddle completely top/bottom
Take paddle apart, spray again, making sure to get inside/outside of the ferrule

For the piece with the button, extra time is spent spraying off the inside.
Then, while the button was working, I would work the button slightly while sprayin inside and out of paddle
When the button stopped working on its own, I used my long finger to push button up/down slightly while spraying inside/out

When that no longer worked, I used a piece of metal to carefully work the button while spraying inside/out

Spray inside of paddle, outside of paddle, button area, etc one last time.
Let dry so water drains from paddle

When putting it together again the next time you use it, inspect and clean with water

From discussing this with others, I have heard soaking them and using a bit of dish soap may help. And in fact one of the times it got stuck together, I was able to get it free by soaking it at the lake, while pulling on it under water for 20 minutes.
Regardless I think the steps I take to wash it out would be sufficient to keep it in working order.

Tips for Getting it Together
Before the Werner paddle got to the point where it didn't really work at all, I had a few tricks that seemed to work for getting it together:

The button only needs to be depressed very slightly. Don't push it any further than needed to take apart or put together.

Use long finger to push button up from inside
Fill both ends with water and slam them together, combing with finger trick. The water pressure seemed to force button out

The button will work itself up as you paddle, so often it will start out a little depressed, but by end of day actually pop out. So, if it is locked, don't worry if the button is still a bit depressed
If they are stuck together, try putting the paddle behind your knees crouching down slightly and pulling apart. I'm not sure why this works, possibly because it forces you to keep the two ends straighter, but I have seen this work in some cases.

Other people I have spoken with have described similar sorts of tricks and several mentioned carrying a screwdriver or wood piece of some sort as a fix in-case it came apart while on a trip and they needed to get the button back out.

Taping it Together

Even when I was able to get the paddle apart, I would often use tape on it, as it wasn't actually locked. After awhile of fighting the button, I decided it was better to just leave the paddle taped together and turn it into a one-piece paddle.
A bit of electrical tape around the seam is effective and it had gotten to the point I never knew if I would be able to get the paddle together at the put-in. On multi-day trips, I was scared to take it apart, because I didn't want to end up without a paddle in the middle of know where.

An Un-Official Survey

I initially thought this was something I was doing until a surf session a year or two ago. One of the paddlers had the same Werner Cyprus I use and had taken it apart during lunch break, but could not get it back together. I showed him my finger trick and was able to get it locked and we finished up the day.
A few months later, I met a different paddler who had a Werner Cyprus paddle and was having issues at the put-in getting it together. I showed him the filling the paddle with water trick, as my finger trick didn't work, and was able to get it locked.
A little while after that, someone I know who had bought a bent shaft Cyprus described his frustration with the locking system.

After this, I began to realize that maybe it wasn't just me and so whenever I see someone paddling with a Werner I ask them about it(that is how I got the soaking/dish-soap tip).
To date, I personally know 4 people with Werner Cyprus paddles with the same issues described above. I also know 3 others who I'm not sure what paddle they have, but have faced this issue.
Among these people are instructors, trainers, dealers, and some very advanced paddlers. Most have indicated that they know others with this issue and that it is a fairly common problem with Werner Paddles.
At least one person has received a warranty replacement for it, but said it was years ago while there were issues with Celtic paddles breaking and thought Werner might have been a bit more keen to fix the issue given the time.

Does this only happen to the Werner Cyprus?
4 of the people I know with issues also have Cyprus paddles, although I'm unsure what the other 3 used(they had all switched to Celtics). The Cyprus is a great paddle otherwise and one of their top rated, so it could be just that serious sea kayakers are more likely to go with the Cyprus more than anything else.
However, one of the people has an old fiberglass Shuna, which works as you would expect even though it has been his spare paddle for years and probably doesn't get washed out as well as his main paddle. It isn't clear if it is the model or they changed designs at some point, but the button on his Shuna feels great.I also know someone else with a new Shuna that feels a lot better than mine, although to be fair, it has only been used a few times as of the writing of this post and only in very sanitary conditions.

I think it is more likely that the common thread, is that everyone I have talked to is a coastal kayaker and most are very active, with 1+ paddles a week.

Conclusion
Despite how much I like the design of the Cyprus, my next paddle is not going to be a Werner. I am leaning towards a Celtic paddle, as I think the lever-lock system they use seems to be vastly superior to Werner's.
While I would probably recommend a one-piece Werner, I would not recommend anyone that is a serious paddler(especially a sea kayaker) go with a two piece Werner Paddle.
I think at the end of the day, even if it is truly an issue of grime/sand/dirty getting in there, which I am not convinced is 100% of the problem, I feel like the fact that it happens at all and seems to be rather common is indicative of a larger problem with the design.