**Obligatory Warning: Paddling any river at or near flood stage can be very dangerous. See safety section below**
The past couple of weeks, thanks to a lot of rain, we've had some very nice dam releases on the Neuse River. I decided to take advantage of the high water and paddle my 17′ fiberglass Impex Category 3 sea kayak on the Neuse.
The highpoint was a 30 mile paddle from Anderson Point Park to Smithfield, where I maintained a 7.4 MPH speed. Before attempting that, I did a short 9 mile attainment from Auburn Knightdale Road to Anderson Point and then back down as well. The Smithfield run represents the shortest 30 mile day I have ever had, although possibly not the easiest as I was paddling with purpose the entire time.
Normally, I wouldn't be overly excited to paddle one of my fiberglass boats on the Neuse, as even after a rain, it can be pretty rocky. However, the US Army Corps of Engineers has been releasing at over 3,000 CFS for over a week now and at that rate, all the rapids are washed out and the river is deep enough, that this is much less of a concern.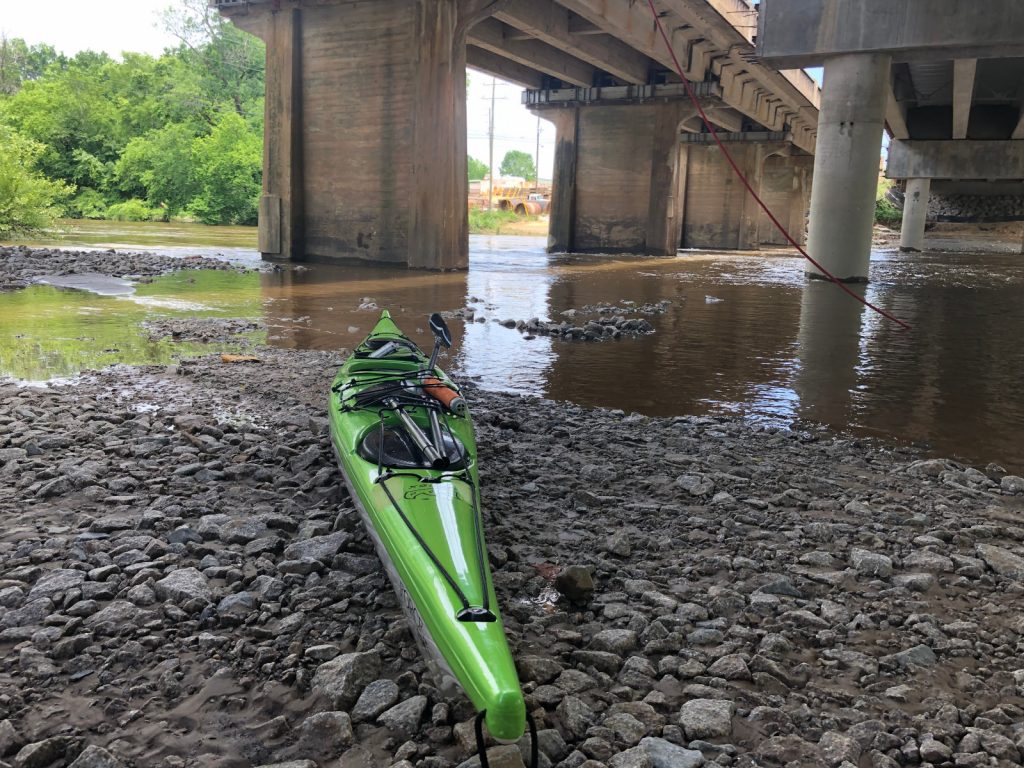 Auburn Knightdale Attainment
My first trip in the fiberglass boat was a 9 mile attainment, where I put in at Auburn Knightdale Road, paddled to Anderson Point Park, then turned around and returned to Auburn Knightdale Road. For this paddle, the river was running at about 3,200 CFS, thanks to a 3,000 CFS release.
This, or starting from Poole Road, is one of my regular fitness paddles, although I would generally use my 14′ plastic boat, nor at this high of a release rate. However, the last time I did it at 2,400 CFS in my Dagger Alchemy, I couldn't help but wish I was in a longer boat.
So, when the release bumped up to over 3,000, I decided to paddle it in my Impex. The Impex proved to be great for this, as I was able to paddle at around 2.6 MPH upstream, where in my shorter boat, I probably would have been closer to 1.5 MPH.
The highlight, if you could call it that, of this trip was seeing two jet skis zooming up the river, one of whom was doing doughnuts under the bridge when I put on. They too decided to take advantage of the high release and despite their antics under the bridge, did throttle down when they passed me later. While I've seen boats on this section of river before, I have never seen a jetski.
Anderson Point Park to Downtown Smithfield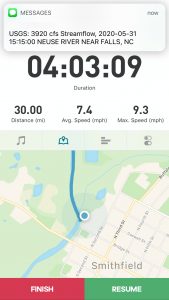 After doing the attainment in the fiberglass boat, I knew a long down river run would be fun and when they bumped up the release rate to over 4,000 CFS, I knew this would be a great opportunity to do it.
My original intention wasn't necessarily to go all the way to Smithfield, but after paddling about 16 miles down to highway 42 in just over 2 hours, I decided to keep going to Smithfield. I ended up with an average speed of 7.4 MPH, excluding two short breaks, although I lost .01 from my speed as I was getting out, so it was really closer to 7.5 MPH.
It was not an overly exciting paddle, but it was one of the quickest 30, and easier, 30 mile days that I have had.
As I was putting in, a search and rescue team was doing some practice in a raft, which created some interesting waves under the Highway 264 Bridge.
Trip Stats:
Total Distance: 30 Miles
Moving Average: 7.4 MPH
Average Speed: 7.06 MPH
Top Speed: 9.3 MPH
Fastest Mile: 7:17 – 8.23 MPH
Safety Concerns
Whenever you paddle at high water, especially at flood stage, there are some safety concerns. And this is not something most people should do!
Safety concerns include, but are not limited to:
Debris floating in water
A Blocked bridge or other strainer that you can not avoid
Not being many places you can get out of the river easily/safely
When paddling in a longer boat on the river, you have to add on reduced maneuverability, as you have to think a bit further ahead when planning a route around an obstacle and can not turn on a dime like you can in a whitewater boat. When you are paddling a 17′ boat, this is compounded.
Specifically on this run, my biggest concern was one bridge in particular, then to a lesser degree other bridges, where it is common for trees to build up. Several miles past Auburn Knightdale road, there is a private bridge, which I think may belong to a water plant. It is a bit lower than a normal bridge and I've seen it pretty close to being blocked off. Given the length of the boat and how hard it might be to backpaddle at 4200 CFS, I was a bit wary, but it turned out to be clear.
Aside from that, there were not real obstacles, aside from some construction where a tube across the river that was slightly submerged, but I was able to power over that without issue.