Yesterday, a buddy and I completed a relatively short 9 mile paddle from the public access on Emerald Isle to Bear Island and back.
When we checked Magic Seaweed for Bogue Pier, it was predicting 1 foot seas by around noon, after 2-3 foot seas the previous day/evening. However, this seemed at odds with the wind speed reported by both Windy and Magic Seaweed, as they were both calling for an onshore wind with gusts around 30 MPH for most of the day.
Upon arrival at the public beach access, we took a quick look at the surf before offloading our boats. It was definitely still over 1 foot, with several 3+ foot breaking waves.
However, the biggest issue was the wind. It was blowing hard enough that even on waves that were far away, a noticeable amount of spray was being pushed off each wave. It was also a very strong sustained wind.
After a few minutes of watching the surf, we decided to put in and got our gear together, then launched and began paddling in a southern direction towards the Bogue Inlet. With such a strong wind to our faces/side, communication was difficult and it took a fair bit of mental energy to push through it. There were times when the sustained wind gusts seemed to go on for several minutes before dying down.
We briefly toyed with the idea of doing some surfing, but decided that with the strong wind and relatively short interval between waves, it probably wasn't a good idea.
Instead, we opted to push down to bear island, take a break, then head back. Our hope was that if the surf report was correct, the winds would start dying down by the time we started paddling back and worst case, the wind would at least be more towards our back and we could take some advantage of the following seas.
There was some minor shoaling around the point of Emerald Isle, as there usually is, but we picked a path close to the beach and skirted most of that, heading into the inlet. Rather than go directly across Bouge Inlet, we paddled into the inlet for about 1/3 of a mile, before turning back and heading towards Bear Island, setting a ferry angle to take into account the strong wind.
There was some minor shoaling this way, but much less than if we had gone straight across from Emerald Isle. However, I still ended up unintentionally surfing a bit as we worked through the colpitis seas.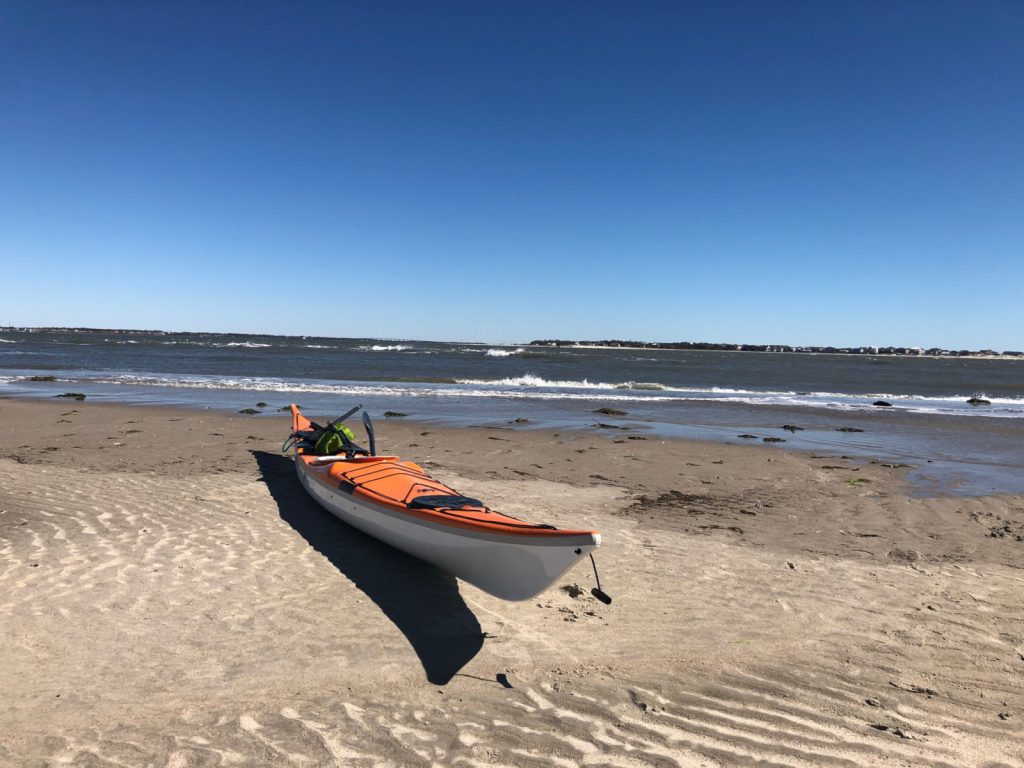 On Bear Island, we got into the Baffi Bag(which it turns out I have no idea how you actually spell) and while the wind howled around us, enjoyed some warm tea and snacks. Occasionally, one of us peaked our head out the bag to make sure our boats were still clear of the rising tide and hadn't blown away.
Due to the wind, we had a brief safety talk before leaving. If one of us went over during the crossing, it might not be possible to hear a scream, so we discussed radio channels and also reiterated the importance of keeping an eye on one another.
We got a nice push across the inlet, with some following seas and made it back around the point by going in between the breakers close to the beach, as we had on our way out.
With the wind to our back, the paddling was much easier and after two miles, my paddling partner said 'this looks surfable' and so we decided to do some playing. There ended up being a brief respite in the wind and some fun breaking waves, so we surfed for about 3 miles along the beach on our way back to the take out.
During a short break, we discussed paddling an additional 4 miles(round trip) down to the pier, so we could checkout some of the damage from the hurricane. A section was missing, which neither of us had seen, so we were keen to take a look and the surfing was fun, but we decided against it.
In the end, it did seem like the wind died down some as predicted, but as we were loading our boats, it picked up again, making us glad we hadn't gone down to the pier and back.
Trip Stats:
Total:
Distance: 9.14 Miles
Average Speed: 2.3 MPH
Moving Average: 3.2 MPH
Without Surfing:
Distance: 5.88 Miles
Average Speed: 2.5 MPH
Moving Average: 3.3 MPH
First Leg:
Distance: 3.8 Miles
Average Speed: 3 MPH
Moving Average: 3.1 MPH
Second Leg:
Distance: 2 Miles
Average Speed: 3.8 MPH
Moving Average: 4 MPH
Surf Leg:
Distance: 3.26 MPH
Average Speed: 2MPH
Moving Average: 3.1 MPH
Top Speed: 9.9 MPH