April 27- May 4, 2019, Lee Toler and I completed a 127 mile circumnavigation around the Northern most barrier island in North Carolina.
Technically, this isn't actually a barrier island but more of a peninsula, as North of Oregon Inlet, there is no other inlet in North Carolina. However, for the purpose of our trip that is how we have been referring to it.
Our trip would take us over Currituck Sound to Corova Beach, then south 54 miles to Oregon Inlet, before turning North and paddling sound side back to our starting point at Bell's Island Campground in the town of Currituck, NC.
Originally planned as 7 days of paddling, we ended up completing the trip in only 6 days of paddling
Planning

Lee spent a great deal of time planning our route and finding places to stay along the way for this trip. He had led a group of kayakers many years prior on a multi-day trip that included some of the same sections of this trip.
One thing that made this trip a little tricky, although arguably a lot more comfortable, is that there is very little undeveloped land or camp grounds along this section of the North Carolina coast. So, finding places to spend the nights is not an easy task.
For Lee, this meant spending a lot of time figuring out about how far we were going to paddle each day, then working forward and back from there to find a place nearby we could easily get our kayaks to.
The main crux points in planning were:
What month.? ( last years march OBX trip was too cold ) and
On what day would or could we, reach Oregon Inlet and ride in a flood tide ?
After much planning, Lee came over to my house to go over the itinerary.
We ended up making a minor change to the first two days of the trip, which made the first day a bit longer, about 27 miles, and the second day a bit shorter, around 18 miles, which is the opposite of how he had planned it. Shorter.
Day 1 – 04/28/2019:
Bells Island to Corova to Corolla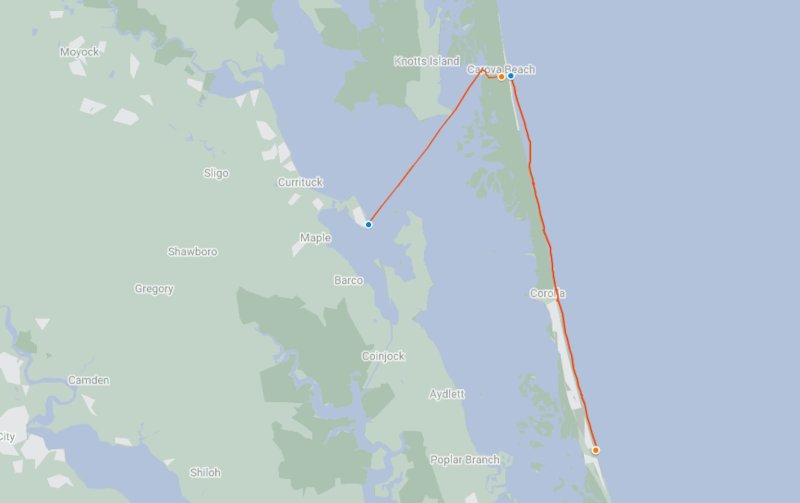 Lee and I drove down to Bell's Island Campground on Friday afternoon, where we camped just a few yards from the boat ramp at Bells Island Campground. This allowed us to get an early start the following morning and we were on the water by 6:15 AM. Lee had camped here before on a kayak trip he lead to and around Knotts Island.
After getting a compass bearing on the end of Knotts Island to follow, we began our paddle.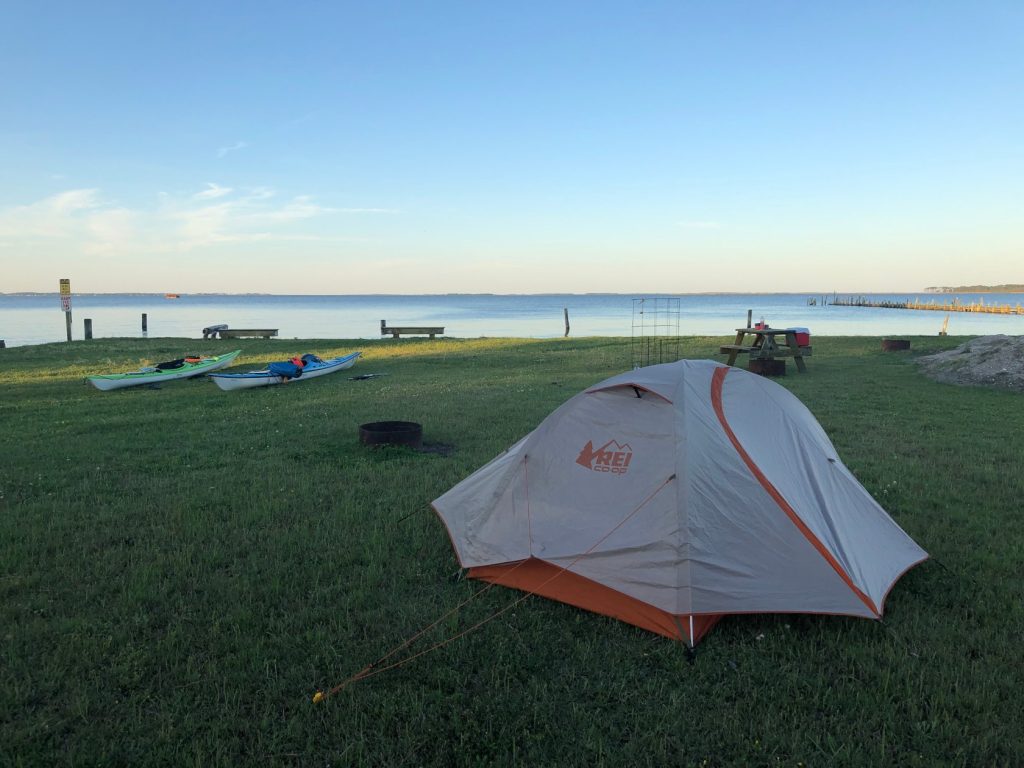 The first leg of the day would take us on a 6 mile open water crossing, skirting Knotts Island, before heading another 3 miles over to the public boat ramp and facilities of Corova.
We had favorable wind and swell and made good time, catching several nice rides on short period following seas along the way and burying our bows, sometimes up to the front hatch. This is a shallow sound, so there were several nice areas of shoaling and I believe this was the only time during the trip that we really got any surfing in.
The day before, we had noticed a blinking Cell Tower and this ended up providing a very nice way-point for us to aim for. This got us very close to the entrance of the Corova canal.
We navigated the nice protected canal and landed at their public boat ramp, which has a well maintained park and bathroom/shower area.
Corova is the most northern town of the Outer Banks. It is the 11 mile stretch of beach from the NC/Virginia border, to the northern limit of Corolla.
Corova and Corolla are both known for their wild horses and we saw three walking around near the Corova public boat ramp, where we stopped for a lunch break of peanut butter and jalapeno grape jelly.
After lunch, we used a Sea Tug kayak cart to portage our boats about 1/3 of a mile oceanside. This resulted in about 1 mile of walking by the time we were done with 2 trips. This was relatively easy work with the wide wheels kayak cart.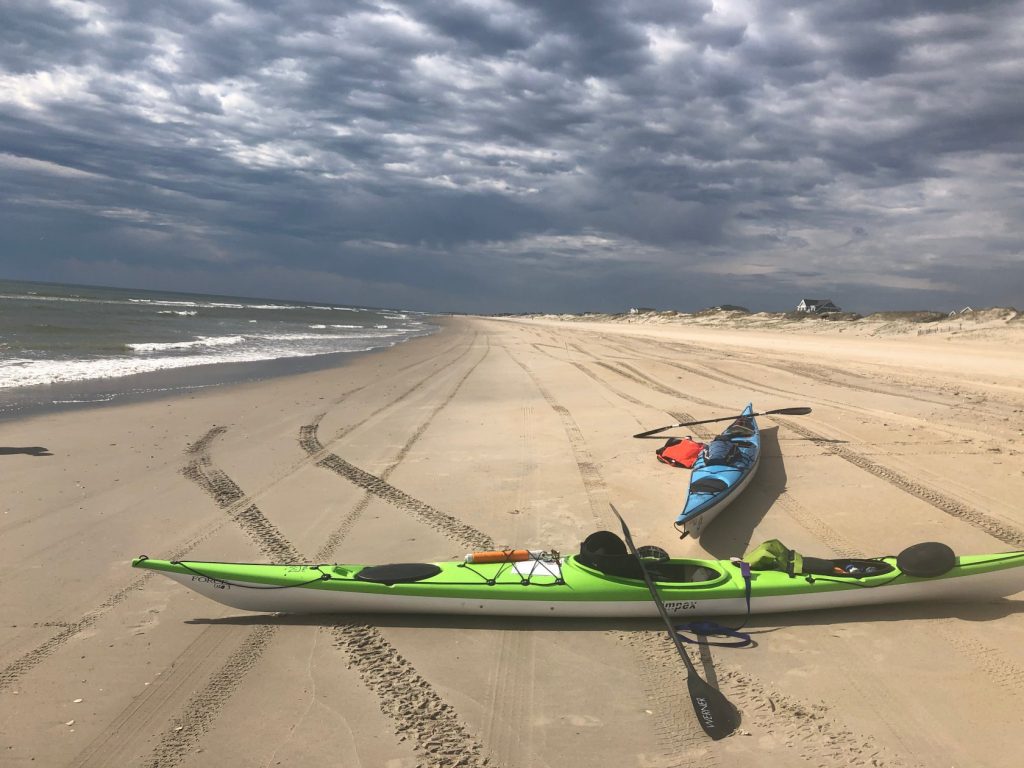 As we launched and turned South, we felt what would become a familiar feeling for the entire ocean side of our trip: a face full of wind.
Conditions were very calm, even with the wind, so we had no issues doing beach landings along the way, although due to the wind, we made relatively slow time. Along the way, we saw a number of wild horses, including one foal, which we would later learn was only recently born sometime in the last month or two.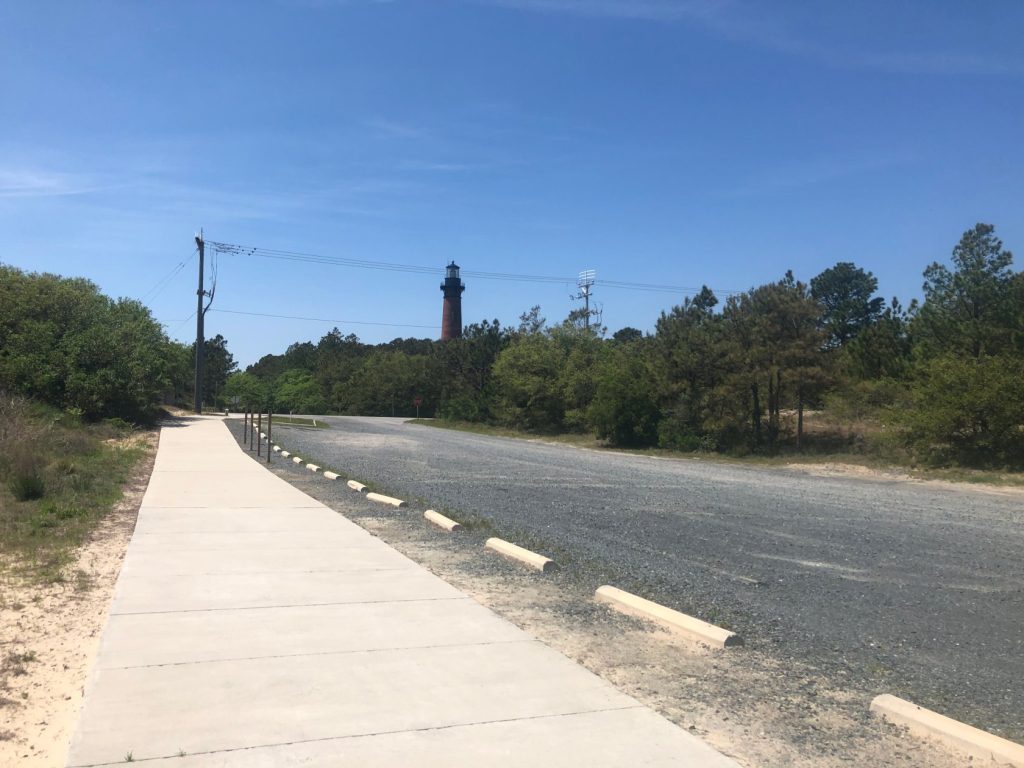 After about 10 miles of paddling, we reached the public beach access in Corolla where we did a beach landing and then walked about 1 mile to a local bar, where I had a much deserved bacon cheese burger and fries.
After a filling lunch, we hopped back on the water to paddle another 7 miles to our campsite.
Now would be a good point to pause for a brief mention of other factors that were key challenges to planning this trip:
How many miles do you want to paddle on any given day ?
Where will we end up after paddling those miles ?
Where can we stay the night ?
The last one is exceptionally important, as there are no ocean side or sound side campgrounds along the section of the Outer Banks that extends from Oregon Inlet to NC line. This leaves hotels, Air BnB, VRBO, or stealth camping as your choices.

One of the reasons we had decided to paddle a little further on the first day was that we had observed two areas on Google Earth that appeared to be undeveloped and might provide an opportunity for stealth camping. Lee spent some more time looking at maps and determined a .4 mile long tract of ocean front land that extended all the way to the main highway looked promising. It was presumably privately owned and near 1-2 restaurant choices, as well as a grocery store.
Fortunately, our Google Earth research panned out and after scoping the area, we found good spot, setup our tents, and cooked dinner.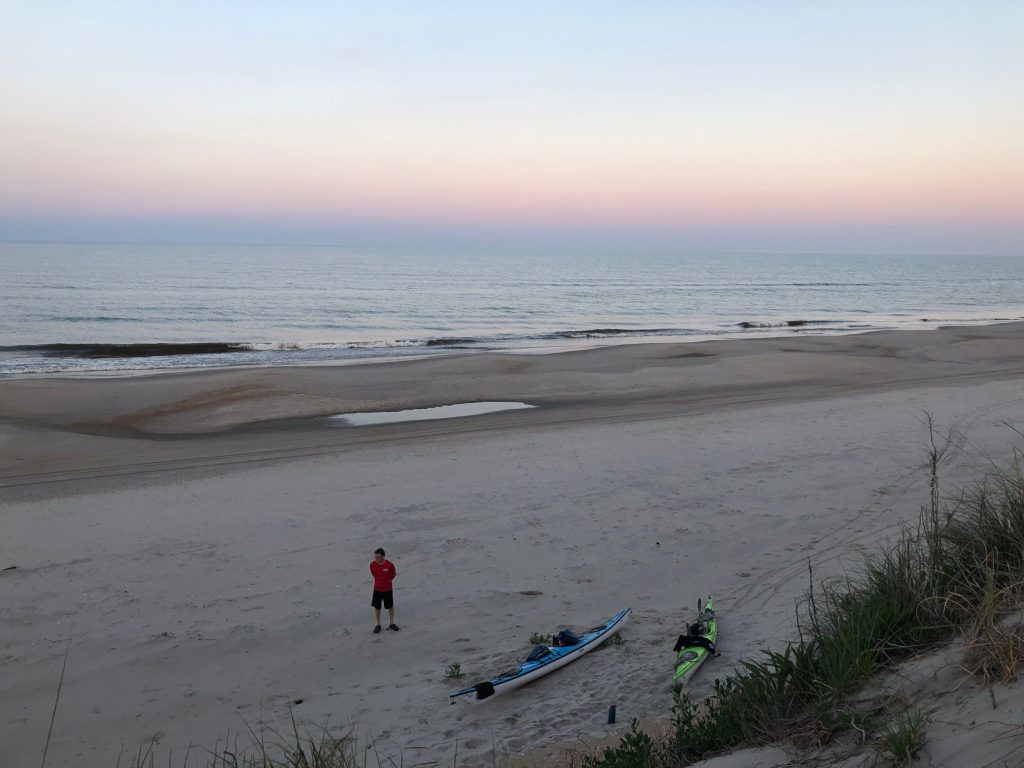 Stats:
Time on Water: 9:56
Distance: 26 Miles
Average Speed: 2.61 MPH ( this factors in a sit-down lunch and 2 surf landings )
Moving Average: 3.8 MPH
Day 2 – 04/29/2019:
On Friday, two days prior to our launch, Magic Seaweed and Windy were calling for elevated sea state on Monday, which would be our second day of paddling.
This had us both slightly concerned. In addition to a menacing looking surf, it was too cold for our chosen gear. We had decided not bring drysuits on this trip. John did have his farmer john wet suit coupled with a Kokotat short sleeve dry top. Lee only neoprene pants, quick dry long sleeve shirt and a short sleeve dry top. So, we discussed a few alternatives like staying an extra night at our camp site or paddling an extra 20 miles to hotel. We decided it was best to spend an extra night here ( Saturday night) and try to make up the mileage later. We were successful in getting our fully prepaid oceanfront hotel room postponed by one night.
By Sunday, when we launched, the conditions reported by Magic Seaweed and Windy had dropped a good bit, so we were cautiously optimistic that the conditions wouldn't be terrible. and so decided to stick to the plan and camp at the original spot.
After making poor time due to paddling into a 15 knot wind for 15 miles, it was getting late when we stopped the day before and we were both tired, so I don't think either of us would have been overly excited about the idea of paddling another 20 miles in the dark to our hotel. So, that really wouldn't have been an option regardless, although it would have been nice to have been able to spend two nights at the motel riding out the bad weather.
During the night, we both heard the wind and surf building and by morning it was looking rather rough. Windy and Magic Seaweed both revised their forecasts during the night.
Even though conditions were rough and there was a very short period, we felt reasonably confident we would have made it off shore, but this would have meant dealing with a strong wind and swell on our beam the entire day and as a result, we would have likely had to paddle 18 miles straight without getting out of our boats, only to make what might be a hairy beach landing at end.
Waves were breaking much further out too, so we would have had to have gone pretty far out to get clear of breaking waves. To top it off, neither of us brought dry suits and so we would have been wet and very cold right away after breaking through the surf and the water was still cold enough that any amount of prolonged exposure, like if one of us came out of our boats, in our neoprene presented a safety concern. About the only thing going for us was the wind was blowing on-shore, so if we had come out of our boat, we likely would have gotten blown back in.
Feeling slightly defeated, we decided to walk down to a nearby strip mall, leaving open the possibility of doing a later launch if conditions dropped. We spoke with several nice locals, before spending an hour or two going over maps.
Because we were not paddling today, we would obviously loose a day, which we would need to make up the time/mileage later. And, we had motel and AirBnB reservations that we did not want to forfeit.
After a great deal brainstorming, we figured out that if we cut out Manteo, where we had planned to camp on our 4th night, we could otherwise keep our schedule. Fortunately we were able to change our hotel reservation to the following day, so relieved at having worked everything out, we took advantage of a local sea food market that had fried food, before heading back to our tents to relax. Later in the day, we walked 2 miles down to the local coffee shop and grocery store, before calling it a night.
Day 3 – 04/30/2019:
Corolla to Kill Devil Hills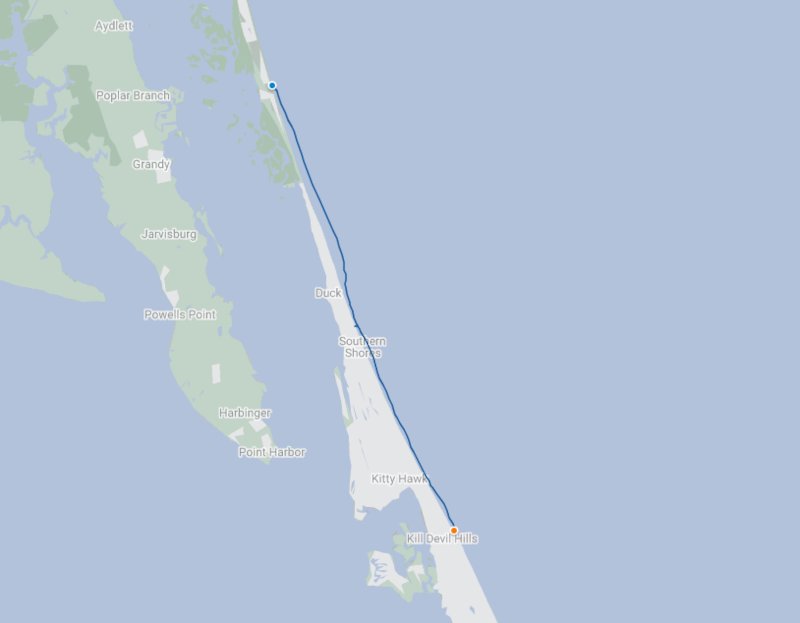 Conditions were much better in morning and after breaking camp, we were on the water by 8:15.
Winds were still a bit strong and off shore, so it presented a minor safety risk, because if one of us came out of our boats the wind would push us away from the beach. However, it was very manageable and the winds were even a bit lower than that our first days paddle. After a successful beach launch, we turned South to begin our paddle.
We made good time and knocked out the first 10 miles quickly, before making our first beach landing a little South of Duck, NC.
The beaches here are very steep and swell was large and dumpy enough that neither of us wanted to surf in, so we used caution, back surfing when needed, and both made successful beach landings.
After a short lunch break of avocado tortilla wraps and cheese, we hopped back in the boats to finish our paddling for the day. One nice thing about a steep beach is launching is often very easy, as you are quickly in deep water and can almost do a seal launch down the beach and into the water.
We paddled another 9 miles to the entrance of our beachfront Days Inn Motel. Along the way, we saw several pods of dolphins, often within just a few feet of the boat, and at least 7 different pelicans dive into the water right in front of us.
Before checking in, we took advantage of the outdoor showers to clean our gear and then spread it out to dry on the nearby picnic tables.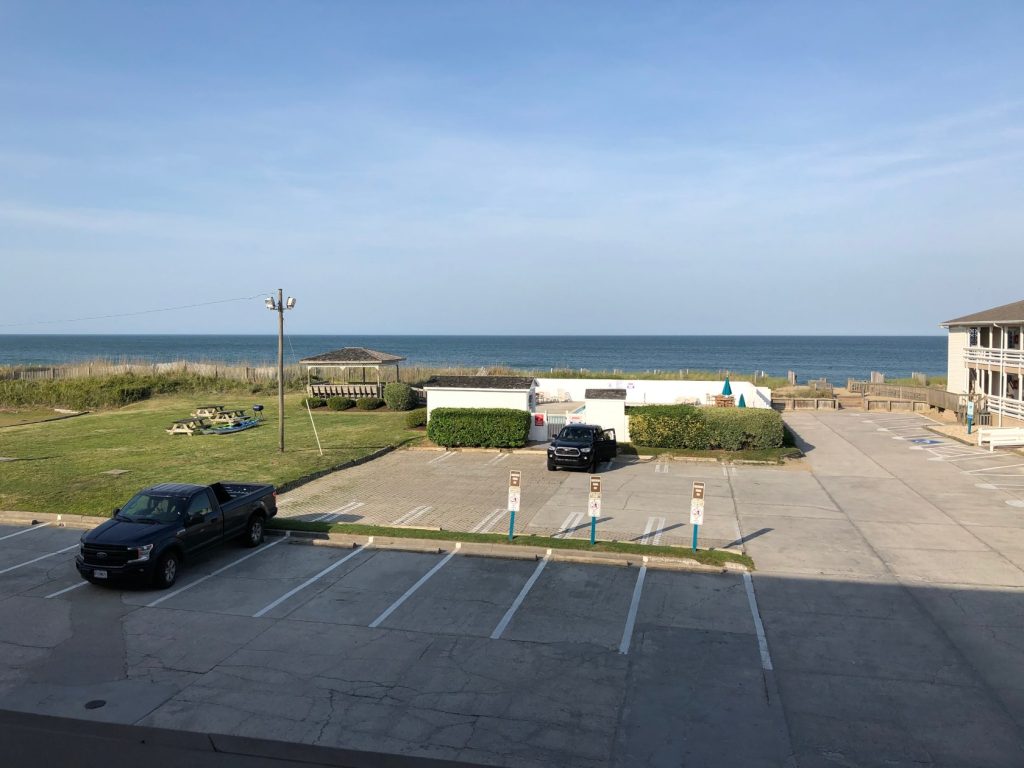 The motel ended up giving us a free upgrade to a 2 room suite and after a very nice hot shower, we walked down the road to a local restaurant, where we enjoyed chicken Parmesan, spaghetti, crab salad, ribs, and French fries.
Stats:
Time on Water: 5:58
Distance: 19.5 Miles
Average Speed: 3.3 MPH
Moving Average: 4 MPH
Day 4 05/01/2019:
Kill Devil Hills to Wanches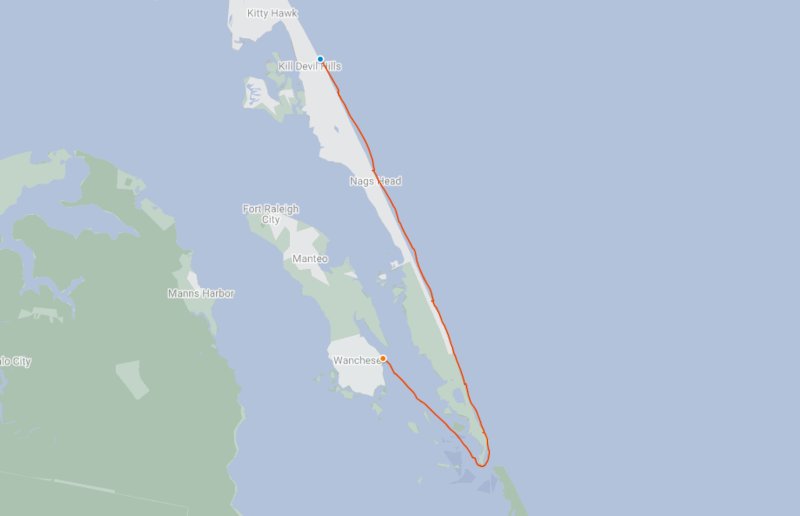 After a good nights rest, despite a nearly blinding outside building light that shone into our room all night,that made it seem like it was daytime the entire night, and quick continental breakfast, we packed our boats and were on the water by 8:15.
When we began brainstorming ways to readjust our trip, after having to layout one day due to weather, we decided to continue with the plan, which had us heading through Oregon inlet to camp on a spoil island just inside the inlet. From there, however, instead of heading to Manteo, we would just go straight to the Airbnb in kill devil hills.
After some more discussion and a lot of staring at maps, we realized if we pushed a bit further today, we could make it into Wanchese, a small town on the south end of Roanoke Island, south of Manteo. Lee knew of a bed and breakfast we could stay at here and this way we would still be able to make it to Roanoke Island on the trip. Although, this would add 8-10 miles to what we had planned for that day.
With the thought of a clean bed and hot breakfast helping propel us, we set out on the last leg of the ocean side part of our trip.
Initially, we made good time, taking breaks every 6 miles or so, as we were wanting to make sure we didn't get to the inlet before the tide turned.
However, after 13 or 14 miles, the wind picked up to around 15 knots from the South, dropping our speed considerably to around 3mph and making the last 9 miles to Oregon Inlet very long.
There is nothing like paddling into a face-full of wind that will make you contemplate each part of your stroke, searching for anything that will give you even a small efficiency against the wind. So, as we made the slog, I think both of us were fine tuning our torso rotation, paddle angle, where the paddle entered/exited the water, foot placement, push off timing, posture, and anything else we could think of to squeak out a bit more efficiency.
We made it to the inlet around 3 PM, which put us mid flow on the incoming, although disappointingly slow flood tide. After a very quick beach landing immediately before the inlet in order to check things out, we pushed around the corner and into Roanoke Sound.
There was a little bit of chop coming through the inlet as we passed under both the old and new Oregon Inlet Bridges, but it was not terrible and after making the turn back North, we had the winds out of our face for the first time in several hours, swell sort of working in our favor, and a nice bit of current from the incoming tide, so it was very pleasing and we got up to around 5mph without too much effort.
We consulted the map and located a water tank positioned exactly where we wanted to land on the island and started working our way to Wanchese.
Our path was more or less the shortest distance to Wanchese, but took us at an angle to the waterway, so we had to deal with some very shallow water, which sometimes can be more effort to paddle through than a face full of wind. It also took us at an angle to the swell and wind, so we were thankful for our skegs, which we had already been using heavily throughout the trip.
As we neared the landing, we got back in deep water and had to deal with some larger swell, also at an angle, but still made good time and even got a bit of a push.
We landed in Wanchese after 27.3 miles and found a place to stash our boats in the waterfront side yard of an Army Corps of Engineers office before changing and calling the Bed and Breakfast to pick us up. They were kind enough to let us use their van, so after a shower, we headed to a sea food restaurant and enjoyed a nice meal over looking Shallowbag Bay in Manteo
As a result of a rather long day and a lot of work, we were now more or less on track with our original plans, just about 9 miles south of where we had planned to camp near Manteo.
Stats:
Time on Water: 9:28
Distance: 27.4 Miles
Average Speed: 2.9 MPH
Moving Average: 3.4 MPH
Day 5 – 05/02/2019:
Wanchese to Kitty Hawk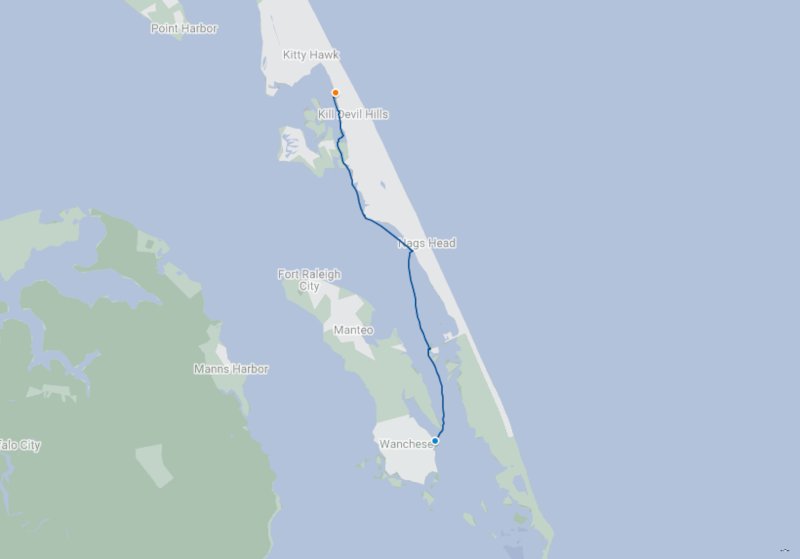 After a nice home cooked breakfast of sausage and fresh eggs, we had a lazy start and were on the water around 9:15.
We started the day with the wind and swell not directly in our face, which was quite pleasing. After checking the map, we set a course towards the east end of the Manteo bridge, which put the wind and swell slightly to our beam.
About halfway to the bridge, Jockey's Ridge came into view and we decided to make a stop there to climb the dunes. With the wind and swell moving in a Westerly direction, we set a course towards a duck blind to the North and once we reached it, set a fairly aggressive ferry angle North of jockeys ridge in order to counteract the swell and wind. It was difficult to resist the urge to turn to the West for what would have likely been a fast and fun ride, but stuck to our course, which took us nicely to the beach at jockeys ridge.
After a lunch of avocado and sea salt wraps, followed by peanut butter and jelly wraps, we found a nearby walking trail and headed out to Jockey's Ridge to check it out.
Once on the water again, we began heading north. Our goal for the day was to head to the Airbnb in the Kill Devil Hills area where we had non-refundable reservations for that night. Interestingly, this Air BnB was actually just a mile or so from the Oceanside motel we stayed at a few nights before.
There was a small canal, called Collington Creek, that leads to Kitty Hawk Bay and would take us more or less directly to the Airbnb, saving a considerable amount of time compared to going around the outside of Collington Island.

After paddling a few miles from Jockey's Ridge, we stopped to take a map bearing in order to locate the canal entrance, before setting out again.
About halfway to the canal, we spotted a few boats heading in the direction we thought the canal was, which confirmed our route. However, we stopped once more to take a reading off a nearby water tower just to be sure, as we did not want to miss or over-shoot the canal.
The canal was sheltered from wind and swell, almost like flat water, and had a number of neat side canals. After paddling about a mile down Collington Creek, it opened into Kitty Hawk Bay. The Airbnb was on a road running perpendicular to the sound, about 1/10th of a mile up a side street. Not wanting to overshoot it, we stopped and Lee went to shore and checked google maps on his phone and determined we were less than a mile away.
We located the public access at a gazebo, went to shore. We used the kayak cart to carry the the kayaks 9 houses up the street to our AirBnB. After unpacking and cleaning some gear, we took nice warm showers, and then walked to a local restaurant for dinner.
Stats:
Time on Water: 6:23
Distance: 16.2 Miles
Average Speed: 2.5 MPH
Moving Average: 3.4 MPH
Day 6 – 05/03/2019:
Kitty Hawk/Kill Devil Hills to Duck to Grandy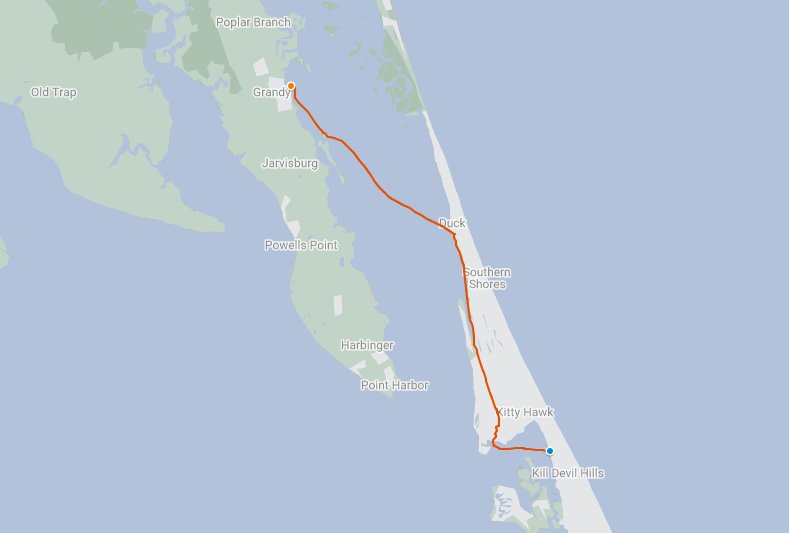 Both of us were eager to get on the water and got up around 5:30, drank some coffee, and then began getting our gear together. We packed our boats as best we could, knowing that we would still need to move things around to accommodate the kayak cart and then began moving the boats down the street to the water.
Our first goal for the day was to find a small canal opening that would take us down very tranquil 6 mile long Jean Guite Creek. This creek provides a shortcut to Duck compared to going around the outside of extensive marsh into Currituck sound.
Lee had lead a group into this canal before many years prior, only after taking a wrong turn into the adjacent parallel canal. This cost he and his group 40 minutes in backtracking out of the canal to find the correct canal. So, he was quite determined not to make this mistake on this trip.
After getting a bearing on the map, we set out for a short 2 mile run that would put us near the entrance of the canal. Our bearing was a bit off, or at least where we ended up when we reached the other side of the bay, so to double check our position, we got a bearing off a nearby marker, which confirmed that we were in the right spot.
Both of us had studied google earth the night before. Lee came prepared with Google Earth black and white full page size printouts of the view showing the confusing canal entrance. All this navigation helped us feel a bit more comfortable that we had chosen the correct canal, although we were still a bit nervous, as we did not want to go down a dead end and have to turn around.
After almost two miles, we found a public boat ramp and stopped to double check on google maps and determined that we were on Jean Guite Creek and heading the right way, before heading back out.
The canal was pretty amazing and in stark contrast to any of the paddling we had done up to now. It was almost like a flat black water creek and was completely protected from the wind and swell. We passed under a few cool bridges and saw some turtles, a snake, and a wood pecker.
A local kayak outfitter was at the end of the canal and so we pulled up on their dock for a quick lunch. More jalapeno grape jelly and peanut butter wraps. We then headed out again. A few more miles found us back in Currituck sound, close to shore. with no obstructions from the maritime forest, we picked up a bit of swell and wind for the first time in hours.
We hand railed the shore until we located a spot under the boardwalk that a local kayak outfitter at Duck had advised us we could land at. We proceeded up to get some coffee, pizza, and a maple bacon donut from the original Duck donuts.
We had a reservation that night at Barry's Walnut Island Lodge, which is a waterfront motel, restaurant, and bar in Grandy. Before eating lunch or departing for Barry's, we had spent a bit of time looking at the map and had determined that a water tank we were able to see visually and on the map would make a good waypoint for the next leg of our trip.
This could potentially be our longest open crossing at over 8 miles, paddling on a diagonal course across Currituck sound. It ended up being closer to 7 miles based on our path. Fueled by the coffee and sugar we made quick time. After getting a bearing on the water tank, we set out with a minor bit of wind and swell on our beam, setting a ferry angle 15-20 degrees to the south of where we wanted to end up.
During our stop on the end of Dews Island for a break, we watched ultra lights being towed by a plane then being released,to glide on their own, riding the thermals. Before departing, we checked the map, then headed out again for our motel.
We located the hotel, which is waterfront, and checked into a very exotic zebra themed room. After a shower and some good food, we called it a night, excited for our last day of paddling.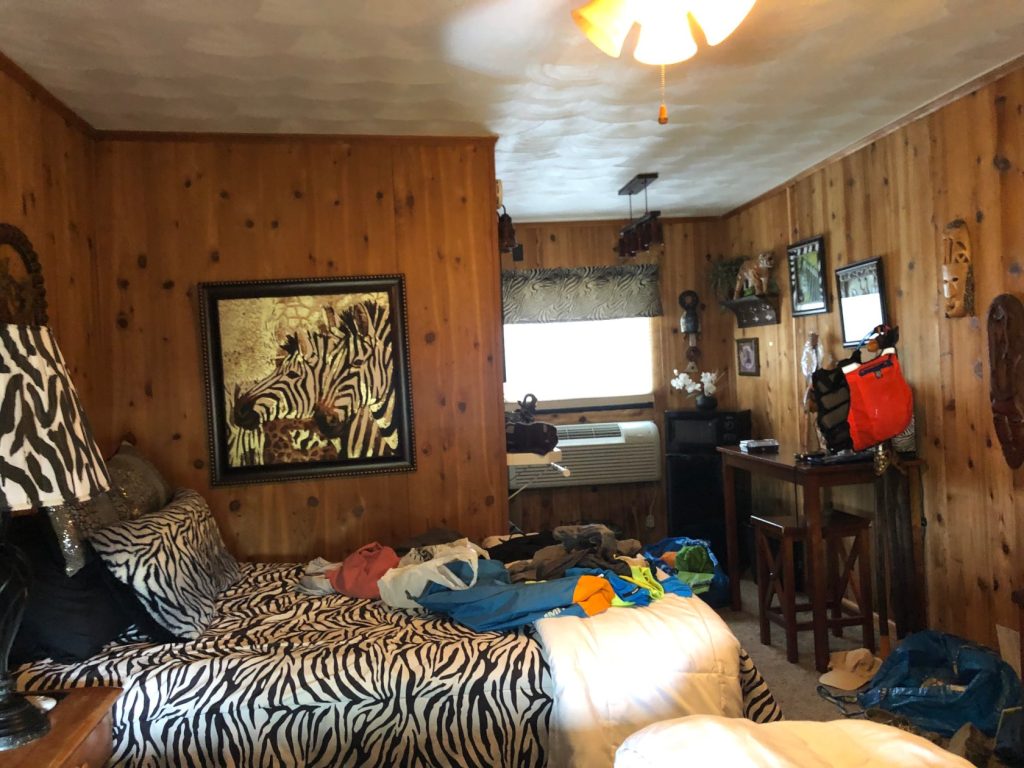 Stats:
Time on Water: 7:31
Distance: 20.9 Miles
Average Speed: 2.7 MPH
Moving Average: 3.9 MPH
Day 7 – 05/04/2019:
Grandy to Bells Island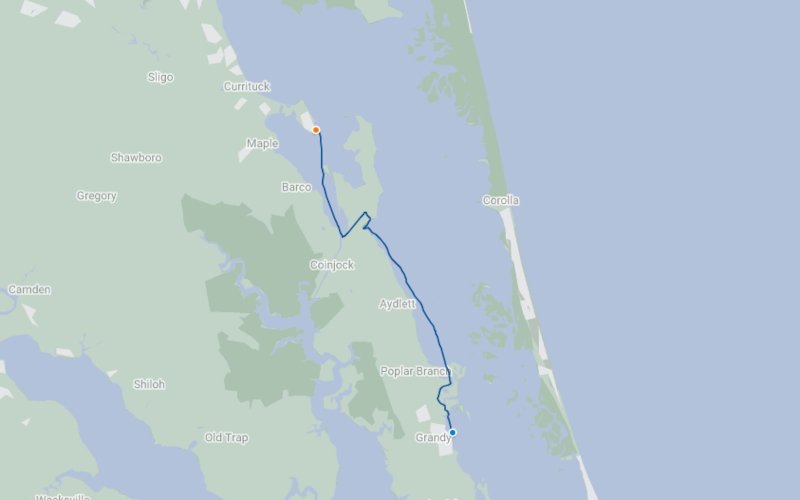 The night before, we had spoken with the owner of the hotel, who confirmed what we had noticed on Google Earth, which was that there was an intriguing creek we could pick our way through just North of the hotel in the morning.
So, after breakfast and coffee, we got our gear together and headed out and were on the water by about 6:45 AM.
After making our way through Neals Creek, which was a short meandering protected waterway, we paddled about 7 miles North to locate the entrance to Parker Creek.
Parker Creek is surrounded by tall grass, very marshy, and would put us paddling for a little over a mile 6 feet from Water Lily road, before dropping us in an Intra costal Waterway near Coinjock Bay.
This presented a neat experience, as we were more or less on the same level as the road, with cars periodically passing. And, we also saw a rather large beaver lodge.
We stopped at a public boat ramp for a quick lunch break, where we ate our last avocado wrap. We headed out into Coinjock Bay and then back to Bells Island Campground, where we had left our vehicle.
Stats:
Time on Water: 4:59
Distance: 17.2 Miles
Average Speed: 3.5 MPH
Moving Average: 4 MPH
Thoughts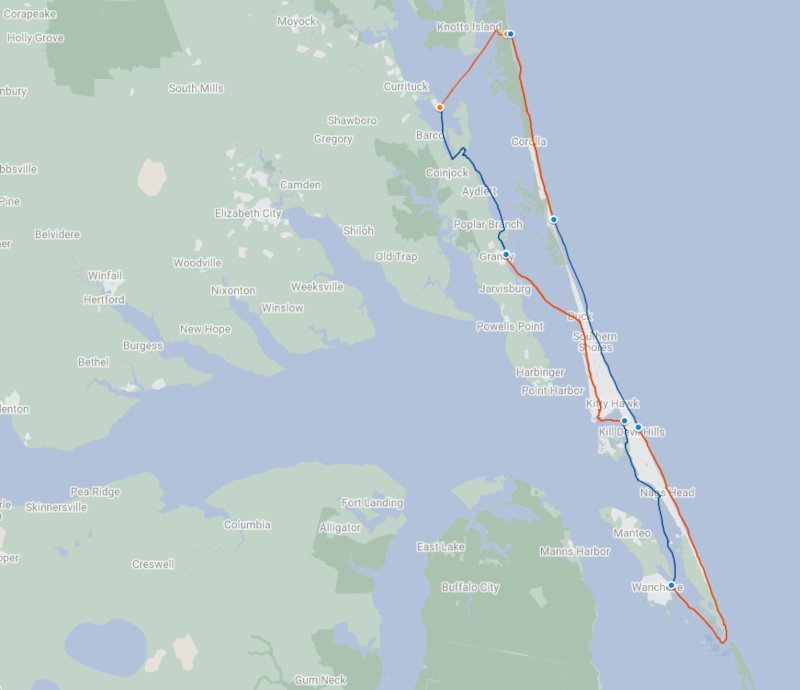 This was an amazing trip and there were many great things about it.
We saw a great deal of wild life, especially once we got South of Corolla. I don't think I have ever seen that many dolphins at once together, nor seen them as playful as I did on this trip.
We also ended up inside a school of fish, where we could hear them popping the surface and see them jumping. I saw a number of manta rays, or possibly skates, passing close to my boat. And on that same day, saw what appeared to be a very successful net fishing operation that was run using a small boat and likely taking advantage of the same school of fish we had paddled through.
There was also a surprising amount of map and compass navigation used so as not to miss the opening of canals, confirm location, or set course to steer.
Probably one of the biggest accomplishments, however, was how we were able to rework our trip after having to sit out a day due to weather. We spent a great deal of time consulting the map and discussing options. We ultimately reworking the trip so that we didn't miss any of our reserved, non-refundable lodgings.
We knew there was a chance that the weather could wreak havoc on our trip week that was selected 3 months prior. So we were both pleased, not to mention quite lucky, to have to only sit out one day.
It has also sparked an urge to do a few more trips in this area, as we saw a number of things that we wanted to explore. Many of the sections of the trip could easily be planned as day paddles or "one nighters" while staying in any of the lodgings we did.