I had my last paddle of the year today at Falls Dam.
The US Army Corps cut the release rate down from around 5,000 CFS to 2500 CFS last Thursday. I believe this was in order to reduce down stream flooding along the Neuse River ahead of some rain.
On Saturday, we discussed heading out to the dam to play on Monday morning, assuming they hadn't increased the release rate by then.
Fortunately for us, they still hadn't cranked it up at 8:30 when we got on the water and there was a light rain, so we ended up with a wonderfully overcast and cool paddle.
I think for surfing, the sweet spot is a bit lower, closer to 1400 – 1800 CFS.
At the higher rate(2400 – 3000 CFS), I spent less time surfing and more time practicing my ferries and peel outs. My paddle partner, who wears a heart monitor, noted that his heart rate was higher during our session today than it generally gets during his sprint work at the lake.
This made sense to me, as I had noticed that in the first 5 minutes, I was expending more energy and could actually feel my heart beating, than I could over the course of our 13 mile sea kayak surf session the other day.
The US Corps ended up turning the release up by around 600 CFS after we had been paddling for about an hour. I sort of noticed the difference in the back of my mind, but the changes didn't really click until later when I looked at the water levels during our run and could look at it in retrospect.
In total, we paddled about 3.7 miles, over the course of 2 hours.
Our moving average was close to 2.7 MPH, with a top speed of 9.2 MPH.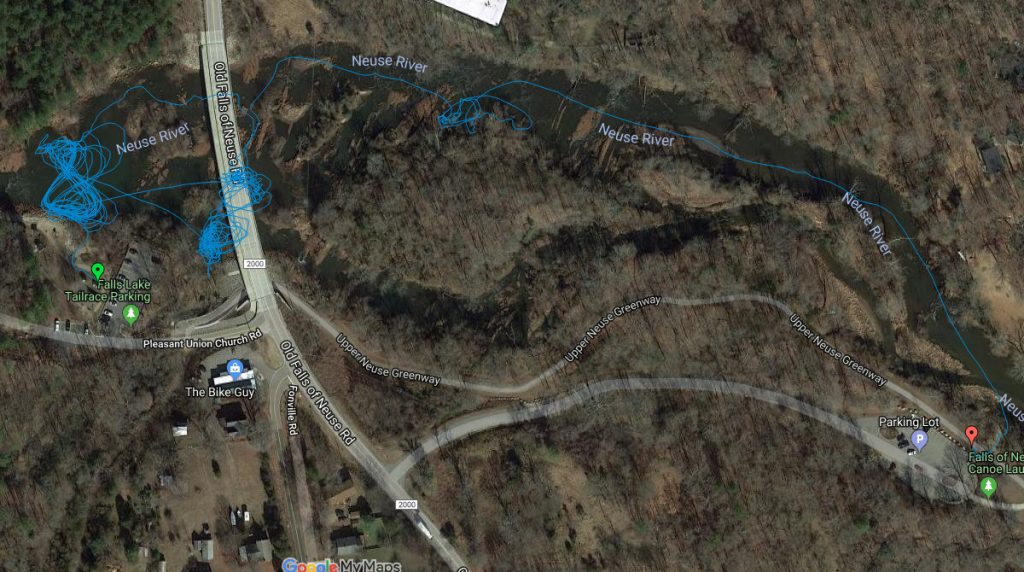 The area we were playing in by the bridge and release point is about .07 miles of river, which is where most of that 3.7 miles came from.
As luck would have it, a local photographer, Wayne, was there and took these awesome shots.