Last weekend, two paddlers and I circumnavigated Bald Head Island. We camped Friday night at the Carolina Beach State Park, so that we could get an early start on Saturday morning and paddled South down the Cape Fear river towards Southport, then headed around the Southern Face of Bald Head Island and paddled ocean side back to the Carolina Beach State Park.
Cape Fear River to Fort Caswell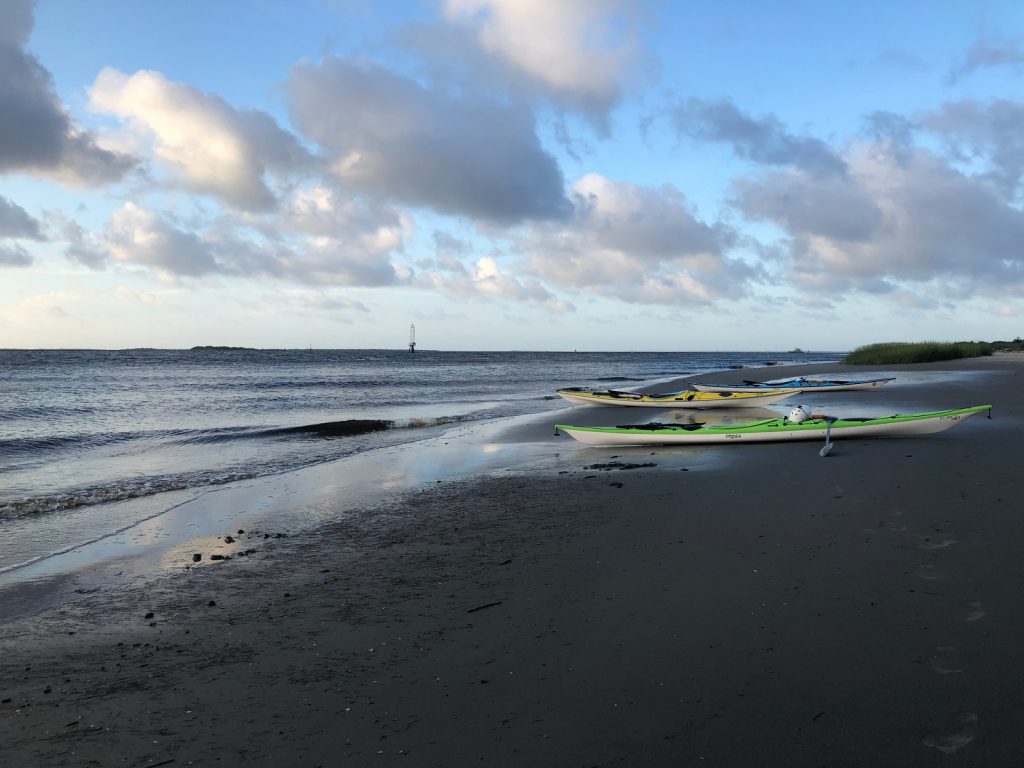 After getting up at 4:30 AM, we were able to break camp and were on the water a few minutes before 6 on Saturday morning. This allowed us to take advantage of the ebb tide, along with a boost from the Cape Fear River, as we made our way South.
We were, however, facing a reasonably strong South-South West wind as we paddled, which had been blowing for several days, so we had a strong wind and swell in our face the entire first leg of the paddle. We stopped on a small unnamed island briefly after about 6 miles, then paddled and did a beach landing on the Fort Caswell, just inside the inlet.
Despite the wind and swell in our face, we made good time on this leg of the trip, averaging about 4.9 MPH moving average, over a distance of about 13.5 miles, with a max speed of 7.2 MPH.
Cape Fear River Crossing to Bald Head Island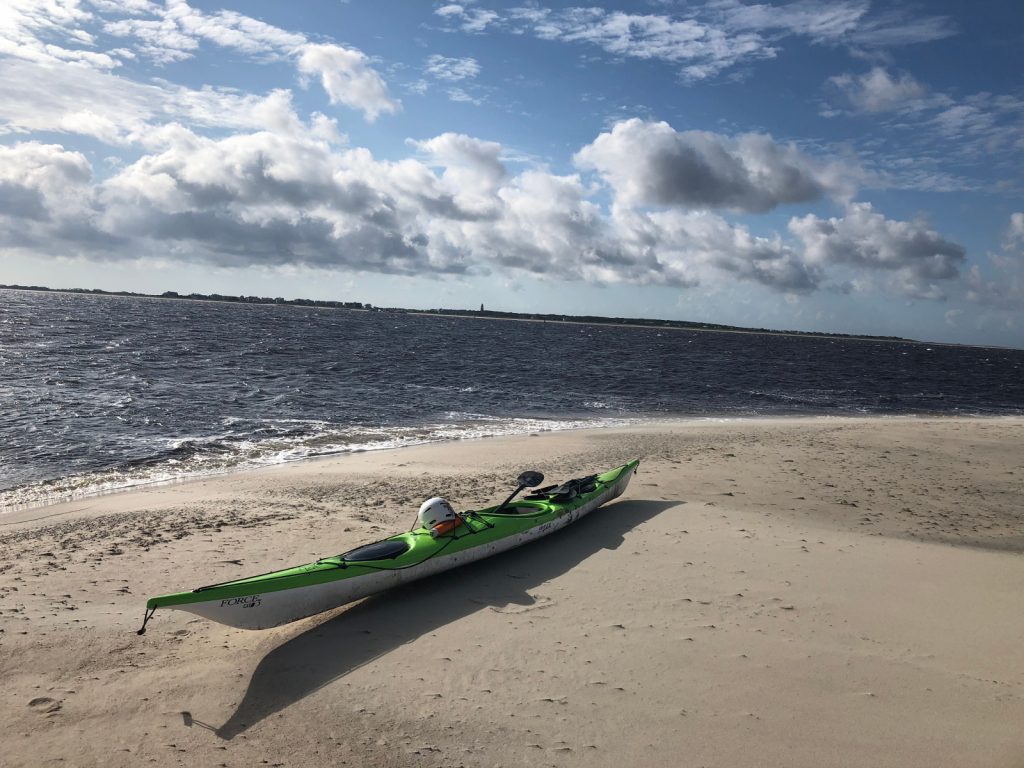 After a short stop, we set a ferry angle to counteract the wind and swell and headed over to Bald Head Island, landing just inside of the inlet, so we could scope things out.
We paddled at a much more leisurely pace here, averaging about 3.3 MPH over the 1.5 mile crossing.
Paddling the South Face of Bald Head Island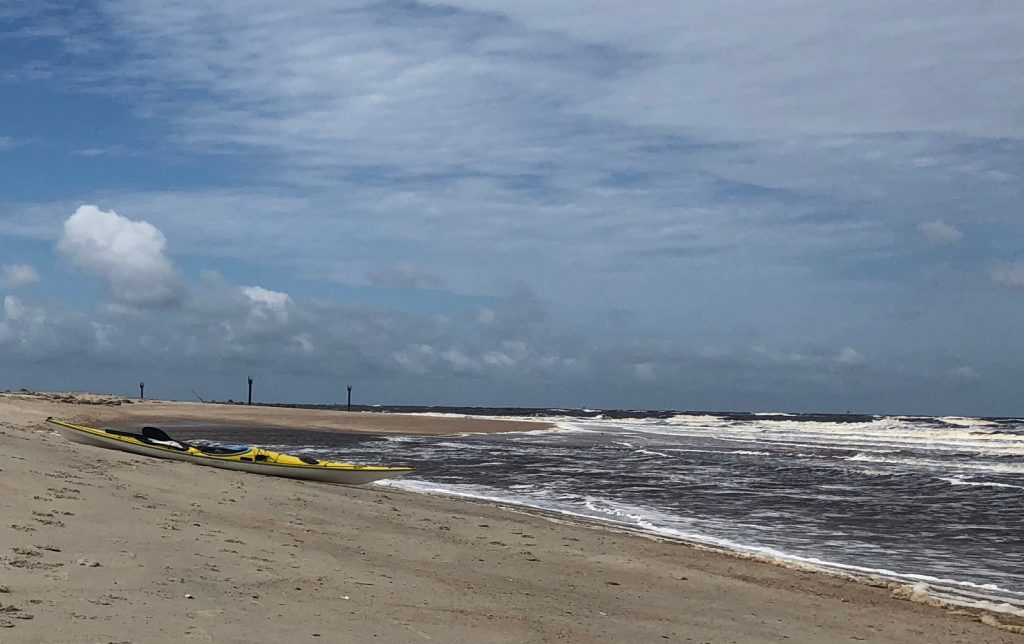 Going into the paddle, we knew the Southern face of Bald Head island would likely be the most difficult part of the paddle, as Magic Seaweed had Holden Beach, the closest Southern facing beach they track, at around 3.5 foot swell, building to over 4 feet later in the afternoon, and our path would put the strong wind and swell on our side as we made the crossing.
In addition, this beach can be very steep and with the large swell and wind, doing a beach launch would likely end up being difficult. So, once we started paddling, we knew we may be committed to paddling the entire 4+ miles without a beach landing until we made it around the cape.
Another wild card was Frying Pan Shoals, which is on the far side of Bald Head Island, and often gets pretty crazy. We were expecting some clapotis seas and rough water when we made it to the Eastern point of Bald Head Island. Due to the conditions leading up to this, we realized we might not be able to get out to scout or even stop to discuss a plan for breaking through the shoaling.
We stopped for a few minutes just inside the inlet and found a small, but reasonably clear path through the shoaling that typically occurs at the corner of an inlet, before doing our beach launch. I made it around the corner without incident, although my buddy, who was about 20 feet to my left and closer to shore, got caught by three large waves. The first back surfed him and the second side surfed him, but he was able to stay in his boat and keep paddling.
The swell was very large here, but mostly breaking closer to shore, so we were able to paddle the rest of the stretch without incident, although it required a lot of mental energy and our heads stayed looking to our right, so we could keep an eye on the 4'+ swell.
As we got closer to Frying Pan Shoals, we saw a very clean opening and pushed through around the Shoals of Cape Fear easily, finding ourselves in what was almost a lake, which was in stark contrast to the conditions we had faced only a few minutes ago. We did a beach landing here, so we could take a break.
Despite being very conservative here, I had my fastest speed of the trip, clocking 8 MPH. We averaged around 4.4 MPH over the 4.3 Mile leg.
Bald Head Island to Kure Beach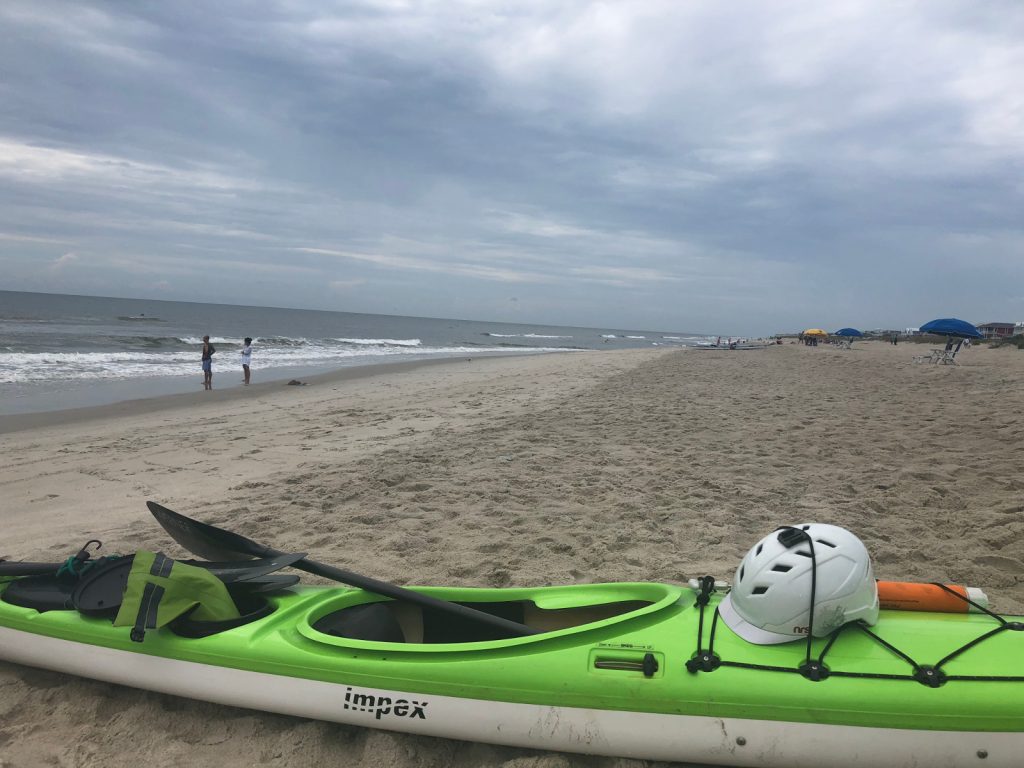 Due to the winds that had been blowing in generally the same South-South West direction for several days, we had a very nice following sea for the remainder of our paddle. The swell was about as close to parallel to the beach as you are going to get and for the first time, the wind was at our back, so the second half of our paddle was much easier.
The paddle from Bald Head Island to Kure Beach, where we stopped for a short break at the pier, was 11.5 miles and we had a moving average of 4.6 MPH, with a top speed of 7.2 MPH.
Kure Beach to Freeman Park
After a short break, we launched and headed North to Freeman park, where we stopped briefly before heading into the inlet. Freeman park is a private beach, which allows people to purchase permits and drive their vehicles to camp and swim.
As we were approaching, I noticed a group of swimmers had lost their inner tube and given up on chasing it, as it was moving out to sea. I scooped it up on my way to shore and carried it in as I did my beach landing. This proved slightly difficult, as I had to paddle one handed, back paddling, so as not to surf in. Right before landing, I threw it towards the beach and side surfed in, with my boat catching the inner tube again as I surfed and keeping it from going back out.
This portion of the trip was about 5.4 miles and we averaged 4.3 MPH, with a top speed of 6.5 MPH.
Freeman Park to Snow's Cut
We were able to pass through Carolina Beach inlet without incident and little swell. However, as soon as we turned the corner, we were back to having the wind in our face, which slowed us down a great deal. We had timed it so that we were mid cycle and had some boost from the tide, but the wind made slow going.
We averaged about 3.8 MPH over the 4.7 miles back to the campground, with a max speed of 6.7 MPH. We passed through Snow's cut and got a bit of a reprieve from the wind, due to how steep the walls are here, but still had it in our face.
Overall Statistics
Total Distance: 41.2 Miles
Top Speed: 8 MPH
Paddling Time: 9:15
Total Time: 12:48
Moving Average: 4.45 MPH
Average: 3.25 MPH
Favorite Part of Trip
The entire trip was quite enjoyable and we got to see parts of North Carolina that few people have ever seen, let alone spent time on.
In terms of paddling, I think my favorite part was coming around the Cape and passing cleanly through frying pan shoals. We had expended a great deal of mental energy leading up to this and had to stay extremely vigilante, as if one of us came out of our boats here, it could have been very serious. Due to the conditions, we weren't able to scout the area and communication was limited, so it was a bit of a wild card. However, in the end, we saw a clean opening and powered through and basically ended up in a lake after 4 miles of white knuckling it through some very heavy swell. In the future, I probably wouldn't do it again when magic seaweed has it at 3'+, but it worked out well and was an awesome experience!