Recently, a friend and I completed a 18.4 Mile Circumnavigation around Holden Beach, a barrier island along the southern end of North Carolina. This was a bit of a spur of the moment trip, but we decided to jump on it, as the sea state was very calm(0-1′ swell) and there was almost no wind.
We headed towards the coast later afternoon on Thursday to spend the night in an AirBnB just outside of the Holden Beach/Shallote area. The AirBnB was rustic to say the least, as it was a permanent camper truck, behind a mobile home, in a trailer park.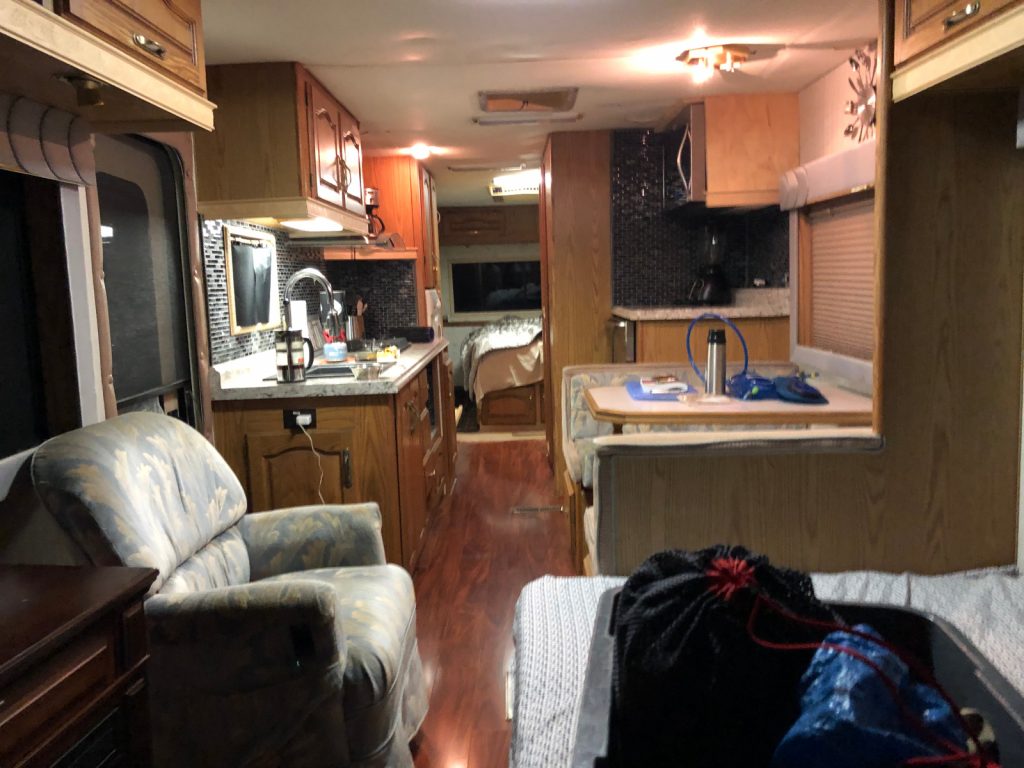 The next morning, we woke early and headed to Holden Beach to eat breakfast at the Main Street Grill, before heading across the new bridge. We stopped briefly to take a look at the ocean, before returning to the wildlife access boat ramp immediately under the bridge.
Working Against the Tide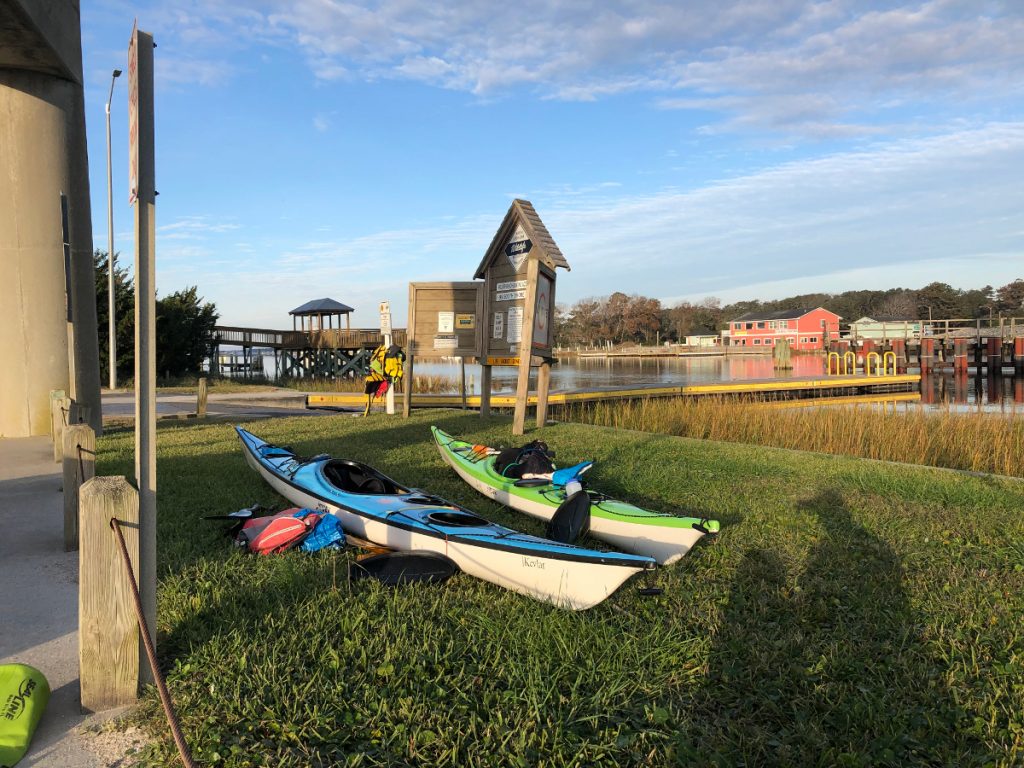 The put-in was only about a mile from Lockwoods Folly Inlet and when we launched at 8:30, tide was going out and close to mid-cycle, as high tide was around 7AM. Instead of taking the easy ride out Lockwoods Folly Inlet, we opted to paddle South down the Inter Coastal Waterway towards Shallotte Inlet.
This put us working against the tides initially, but we hypothesized that about halfway down the island, we would get a bit of a push as we neared the other inlet. If we had gone out Lockwoods Folly Inlet, it would have been a very fast ride, but given it was only a mile or so, it would also have been short lived.
It took about 5 miles or so, but we eventually felt the current go slack a bit and noticed the downstream V was less pronounced on the markers/pilings. At this point, we picked up some speed and went from a slow 2.5-3MPH up to 5-6MPH.
We reached Shallotte Inlet in about 7 miles and since the sea state was so calm, cautiously paddled out the inlet, before taking a short break ocean side.
Ocean Glass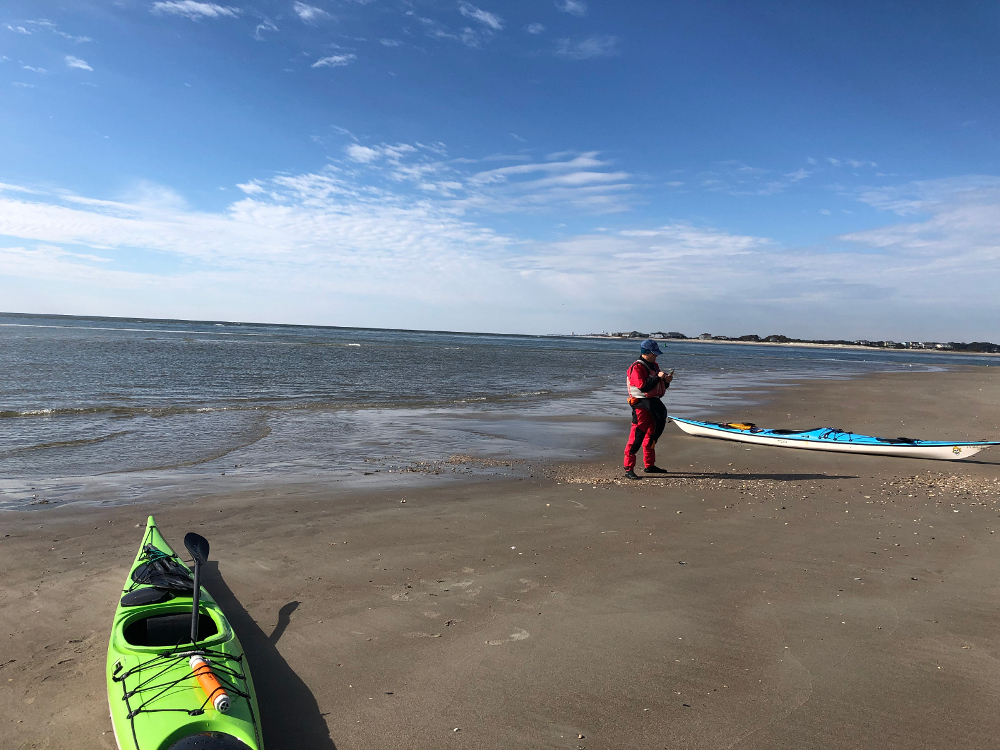 Since there was almost no wind and swell, the ocean was much like glass and we made quick work of the ocean side paddle. We stopped once by the Holden Beach Pier, then paddled down a bit further and stopped ocean side by the bridge.
Killing Some Time
High-tide wasn't until 2PM and we didn't want to head back through the Lockwoods Folly Inlet until the tide has changed, but it was a short paddle and we had about an hour to kill.
While by the pier, we had spoken with a local who told us there was a coffee shop a little further down and gave us a few landmarks to look for, so we could locate it from the ocean.
Unfortunately, since it was off-season, the coffee shop was closed and there weren't any other open restaurants on the island side.
So, after a short walk around town, we headed back to our boats and decided to push on.
A Little Surf Play
Holden beach is pretty steep and with the low tide, small swell/wind, we didn't have any opportunities to surf as we made our way around the island. The swell wasn't breaking until it was right on the beach and I didn't feel like riding it in that close.
However, as we were about to launch, I spotted a bit of an off-shore break close to the inlet and got a few nice rides as we made our way back towards the inlet.
Lockwoods Folly Inlet at Low-Tide
We were still a bit ahead of schedule and so when we hit Lockwoods Folly Inlet, it was at low tide. At low tide, there were several very pronounced sandbars and a few nice breaks off-shore, but we decided to head back to the car instead of playing.
We managed to make it through the shallows, but really were pushing it. It would have been better to wait about 1 hour after the posted high-tide or go a bit wider and through the channel, as it was very shallow.
As we rounded the corner back into the inter-coastal waterway, we had to fight the current a bit, but as soon as we made it round, started to get a push again.
As we ended the trip, we both caught a nice swell ride from a passing boat and got our highest speed of the day, 9.5 miles.
Overall, it was an excellent quick trip and marks another off our list of barrier island circumnavigations!
Trip Stats

Total Distance: 18.4 Miles
Average Speed: 2.6 MPH
Moving Average: 3.6 MPH
Top Speed: 9.5 MPH