Sometimes I have to travel for work and when I have the opportunity, I try to bring my boat and find a place to explore. This has led to some neat paddles, which I otherwise wouldn't have undertaken, like a short paddle on the Northern Cape Fear or a couple hours exploring the Pungo River
Recently, I had to go to Forsyth County and the timing was right that unless something went very wrong, I would have a few hours in the afternoon. I began looking for a place to paddle in the area with easy access and soon discovered Belews Lake. I located a nice North Carolina Wildlife Resources public boat ramp that was reasonably close to where I would be working given the distance I was traveling from Raleigh, then spent a bit of time looking at Google Earth to familiarize myself with the lake.
After work, I drove to the Pine Hall Public Boat Ramp, which is very close to the Duke Energy coal plant, and was immediately struck by how clear and clean the water was. Unlike Falls Lake or Jordan Lake, the water water at Belews lake is clear with good visibility and when it gets a bit deeper, it is a nice green color, rather than dirty brown like the rivers and lakes around the triangle.
When paddling near shore, it was easy to see several feet under water and it reminded me of paddling around Roanoke Rapids, where right before you hit Weldon, the water is similarly clear and clean looking.
The lake is considerably smaller than Falls Lake or Jordan, with about 1/3 the surface area of Falls Lake, but there is still plenty of area to explore.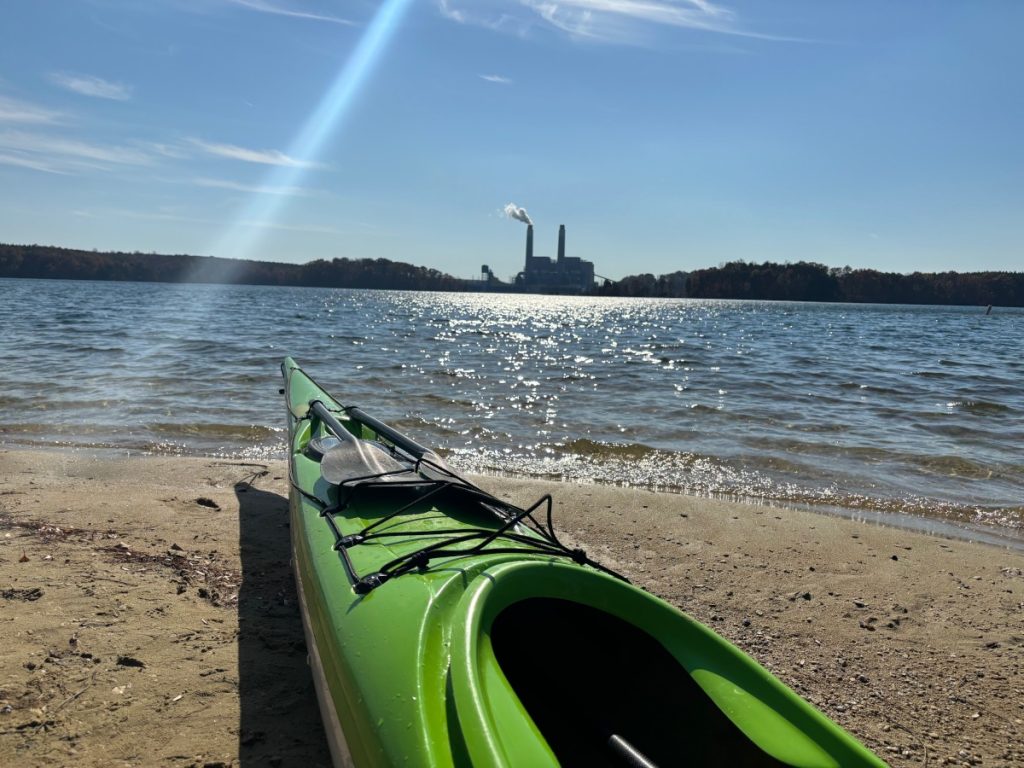 Belews Lake, which I wasn't previously familiar with, is a man made lake created by Duke Energy in 1973 for their nearby coal power plant.
It is not too far from the towns of Stokesdale and Rural Hall, and like Jordan Lake, an area called Little Egypt was flooded to create the lake, and with it the homes of a number of people.
One neat thing about the lake is that it is home to several small islands. The two islands that are closest to the power plant are very small and there are two that are a bit larger a little further from the power plant.
I also discovered a very old sign from Duke Energy, possibly dating back to when the lake was first built, which referenced their intention to allow public access to the lake, while asserting they retained the right to restrict it if needed.
While round trip, I only ended up at around 8.5 Miles, it was still a quite enjoyable paddle and I would like to get out to Belews Lake again and paddle a bit further down than I made it this time.