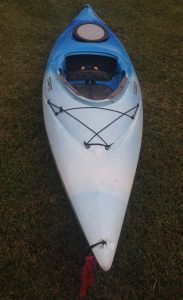 The Perception Sport Rhythm was my first Kayak and while I quickly outgrew it, it was a great low cost kayak to learn on(read scratch up) without going out and spending a lot on something I wasn't sure I would enjoy(or scratch up 😉 ).
I ended up putting a number of miles on this boat, including several over-night camping trips and one run long from Buck Horn Dam(Sanford, NC) to Fayetteville NC on the Cape Fear river.
New, these boats sell for around $500 – $550 when not on sale. However, you can typically find a used one for a lot less and I've seen them on sale at closer to the $400-$430 range.
Kayak Features
The Perception Sport Rhythm is a molded plastic recreational kayak. It includes bungee webbing on the front and a rear hatch for dry storage. The boat weighs around 45 pounds and is fairly easy to carry by a single person.
The seat is somewhat adjustable, mostly in regards to the backrest. The backrest can be moved forward and back, as well as up and down to accommodate life preservers and other gear(as well as to improve comfort.) The bottom part of the seat is fixed to the boat and is a created by a bench that is molded into the kayak as a single piece(often found in older/low cost kayaks.)
It has two carry handles front and back, as well as adjustable foot pegs. In addition to the storage in the back of the boat, there is enough room to fit a dry bag in the front of the boat if you push it past the foot pegs.
While there is some design to the hull, with a slight bit of keel/chining, it is a recreational boat, so it is very wide and flat. This provides a lot of primary stability and not terrible secondary stability, but means it doesn't track that well. It turns very easily, is stable, and is very hard to tip over.
The cockpit area is very wide, so it will accommodate heavy set and tall people, with a weight capacity that is almost 300 pounds.
My Uses
I primarily used the Perception Sport on rivers, mostly flat water rivers with Class I or Class II rapids. Although, I did take it down the Haw near Bynum, which has Class III+ and it preformed well and didn't let me down. I did do a bit of flat lake kayaking on Jordan Lake in Apex and Harris Lake in New Hill as well.
Most of my river runs are in the 8-18 Mile range, although I did several over-night trips the longest of which was around 50 miles or so on the Cape Fear.
The Good
For me, the Perception Sport was a great first kayak, as it is very forgiving and incredibly hard to tip over. I personally never tipped it, although it is definitely possible to tip it over. I saw two friends do it. The first was when going down a rapid and getting turned sideways without a skirt and the other was when a heavier friend lost their balance and tipped too far over to the side.
I used it to run a number of rapids and even took it down the Haw in Bynum(which probably wasn't the smartest thing I have done) and it preformed well. Due to the flat hull, it turns incredibly easy and so after a bit of practice, you can spin it and make turns without having to think about it much. It doesn't have the maneuverability of a play boat, but you can turn pretty much whenever you want. With a longer better tracking boat, you need to plan your moves ahead, but this is not the case with the Perception. It really is a fairly good creak boat, provided you aren't going to be going down heavy rapids.
I went with a harmony spray skirt to prevent splashes into the boat and to provide a bit of support if you get turned sideways on a rapid. While not water tight, this is a fine skirt for recreational use and fit the boat well. The dry storage does work well enough for preventing water from getting in and no water got in either time it flipped.
While not incredibly comfortable, the seat can be adjusted and isn't terrible. The thigh braces on the side make it very easy to carry on your shoulder without digging in and it is light enough that a single person can get it around pretty easily.
There is plenty of room to pack gear(especially if you stow a bag in the front of the boat) and so it can be used when camping. There is also room behind the seat for gear and, due to the large cockpit, a lot of space on both sides of the seat for water bottles or other gear.
The plastic is very thick and hard, so it held up very well to the abuse that a new kayaker can put on a boat as you are learning to read the river and judge what sort of rocks/rapids you can go down.
The Bad
The Perception Sport Rhythm is a recreational kayak and as such tracks incredibly poorly. The wide flat hull that makes it hard to tip over and very stable, along with the very wide cockpit area, means that it just isn't going to go in a straight line well.
I didn't realize quite how bad it tracked until I got my Necky Manitou, which is a day touring boat, and the difference was night and day. With the Perception you will be fighting the river, wind, and wasting a lot of effort to keep it in a straight line. This isn't due to a defect of the Perception Sport or anything, that is just the nature of this type of boat. However, after getting a proper kayak, I quickly lost interest in the Perception and only used it once afterwards(which was enough to know I would not enjoy it.) Instead, it became relegated to my loaner boat until I sold it to make room for my new Play Boat.
It also isn't very comfortable. Not terrible, but the seat is basically just a very thin piece of mesh/foam ontop of the hard plastic bench. So, it can get uncomfortable after an extended period of yakking.
There isn't any rolling this boat(or at least it would be very very difficult) and while the wide cockpit can be great for a heavier set person, if you are a bit smaller it ends up being a lot of extra room. While the extra room can offer some benefits, it can make digging in with your thighs difficult. It also does not have a drain plug, so you will need a sponge and optionally a pump to get all the water out of it.
Final Thoughts
I don't regret my purchase of the Perception Sport Rhythm at all. It was an inexpensive way to find out if I was going to enjoy kayaking and was incredibly forgiving for a novice kayaker. I put many hundreds of miles on it and enjoyed the boat a great deal.
Having said that, I did out grow it quickly and wanted to move on to a better tracking kayak…a proper kayak. As soon as I did, all the flaws of the boat became apparent(uncomfortable seat, tracking, etc.) Again, this isn't really the fault of the boat, that is just what you get when you go with a recreational kayak. If you just want something to float down a lazy river or aren't super into the sport, they are great. However, when you really get into it, you will want something that is designed to track or a play boat that you can have fun on rapids with, which is not something a recreational boat is designed for.