I first got to try out a drysuit when doing some winter paddling at the beach. The person who took me out was kind enough to let me borrow his Kokatat Goretex drysuit and we had an awesome day playing in the ocean and intercoastal waterway. On my third and final beach landing that day, I came out of my boat coming into shore and had to walk in, rather than paddle.
I was immediately sold on what a great piece of gear a drysuit is and how it is essential if you want to continue paddling during the winter.
Unexpected submersion in cold conditions is one of the leading risks a paddler faces. The greatest risk is during winter, but cold water can be dangerous even when it is hot outside.
Everyone swims and cold water exposure can quickly result in a life-threatening situation. While certainly not a magic bullet, a drysuit can help mitigate this danger and downgrade the threat warning from life-threatening to just extremely serious. Similar to a PDF, by wearing a drysuit, you have one less thing to focus on during an emergency situation.
I knew I had to get one and began looking at different types of drysuits, mainly focusing on Kokatat brand drysuits due to their reputation in the industry. Inevitably, this leads to the Goretex vs non-Goretex debate.
Goretex has been around since the late sixties and is well known to be durable, water resistant, and breatheable. It is used in a lot of outdoor gear and is well respected when it comes to drysuites. This reliability and brand recognition comes at a cost, so Gortex gear is usually a bit more expensive than non-gortex. While non-gortex materials exist, Goretex remains the standard that they are compared against and many don't hold up.
One alternative to Goretex is Kokatat's Hydrus 3L material, which is available in a versions of their Meridian Drysuit. Hydrus 3L is a less expensive alternative to their Gortex line and carries a lifetime warranty.
After going back and forth a great deal, I ultimately went with the Kokatat Hydrus 3L Meridian Drysuit. I have done an initial review of the Meridian below and included some background on the features and a brief comparison of the Goretex and non-Gortex Meridian.
** At the time of this review, I have one season of use as a metric. I will update this in the future, as I have had more time to use the drysuit. **
What is Hydrus 3L Material?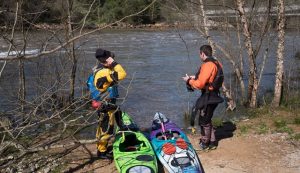 Hydrus 3L is a material produced by Kokatat that is a relatively new, especially by Goretex standards. It is three layer fabric manufactured and sold by Kokatat.
From what I have been able to find, they started selling equipment under the Hydrus 3L name in early 2013. However, it appears to be based on, or possibly just new branding of, a different material of theirs called T3.
The material itself is described as being 'exceptionally waterproof and breathable' on their website. Three years ago during the initial initially launch, it was described as "slightly less durable and breathable [than Gore-Tex]" by their sales and design manager Jeff Turner.
There doesn't seem to be a ton of technical documentation on it and at the time of this writing, I could not find a write up describing it in more detail or the build process on Kokatat's website.
Since there isn't a ton of information easily available on how Hydrus 3L holds up, I did a quick check on craigslist to see if anyone was selling old suits. Goretex drysuits are more common, however I was able to find several people selling used Hydrus suits of various styles(mostly the less expensive angler) and one person selling an old T3 suit, which is a little comforting.
Pricing
Kokatat describes the Hydrus 3L as a drysuit for paddlers on a budget and price was definitely a motivating factor for me.
The non-Gortex Meridian retails for about $300 less than the Goretex Version. Through the use of my REI coupon, I was able to get a Hydrus 3L Meridian for around $450 less than the Goretex version, so about 58% of the retail cost of a Goretex suit.
Of course, this isn't a truly fair comparison, as REI does not sell a Gortex version of the Meridian. Had they and I was able to use my coupon for it, this would of been a much more difficult decision.
Warranty
Kokatat offers a limited lifetime warranty against defect or workmanship on the Hydrus 3L drysuit, which definitely offset the concern of going with such a relatively new and under reported-on material. Knowing that if something does go wrong with the material or drysuit, I can send it back to have it repaired provides some reassurances when moving away from the tried and true Goretex brand.
Having said that, in the grand scheme of things, if a safety product fails you when you need it, a warranty and not having to pay a few hundred dollars(or even a thousand dollars to have it fixed/replaced isn't all that important. However, it is certainly reassuring that they are confident in it enough to offer this warranty.
Differences in Construction Between the Hydrus 3L and Goretex Drysuit
I've compared my Hydrus 3L Drysuit to a Goretex version and the construction and design of the suits appears to be quite similar. To the naked eye the only real difference, aside from the material, appears to be that the Goretex version uses metal zippers, while the Hydrus Drysuit plastic toothed TZIP zipper.
It is possible there are other differences in how it is built, however they were not apparent and both seemed to have been sewn in similar manners, with markings to indicate who made them and/or inspected them, similar support around the Knee and butt, etc.
My Thoughts After a Season of Use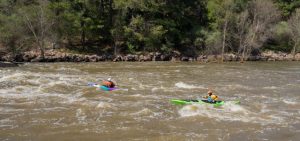 At this point, I've gotten about a season of use out of my Hydrus 3L Drysuit. So far, it has held up well and I have definitely took advantage of having a drysuit by paddling in some cold and inclement weather.
I've done a ton of rolls, been out of the boat a number of times to practice my cowboy re-entry and get a feel for what the cold water feels like, as well as a couple unexpected wet-exits while paddling in surf. I've not had any issues with water seepage or felt insecure in my suit at any time. I would say that I am pleased with the purchase and that the suit preforms well.
In comparison to the Goretex suit, the materials look similar, although the Hydrus 3L is not quite as flexible and feels a bit different from the Goretex version. I believe it is a bit heavier as well, but this, nor the difference in material makes it uncomfortable.
The material feels like it is quite strong, although I do always wear booties and am careful when walking in the woods or other places where something might snag on it. At this time, there isn't any abnormal wear/tear on it, nor has it given me any reason for concern when in the water.
Too Early to Call It?
If you were to ask me now, I would definitely recommend the Hydrus Meridian. I have not regretted my decision to buy it and the drysuit is my favorite piece of kayak gear.
However, with only a season of use, it is still kind of early to call it for certain. The proof will be in how well the Hydrus 3L holds up after several seasons of use and beyond.
I'll update this review if/when anything changes, but at this point I think it is a fine drysuit.
Rating: I'd by it again (but, hopefully won't have to…)
Update 12/2018 – I had to replace the drysuit neck gasket recently, which is to be expected. I've also had two small pin-holes in the foot of suit, which I have had to patch, but like the neck gasket, that is probably just normal wear and tear.