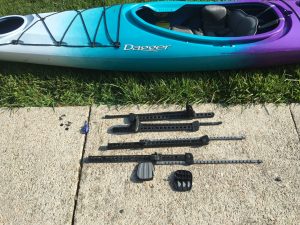 Last weekend while at the beach, both the footbraces in my Dagger Alchemy broke. The footpeg on the right snapped first while breaking out through the surf and the left footpeg snapped about 30 minutes later. As it turns out, there was a recall for 2015 model confluence boats(Dagger/Wilderness Systems) that used the KeeperXL and Slidelock XL Footbrace system.
Per Dagger's site:
With these systems the foot pad, adjustment wand, or pivot carriage may deform or break if a heavy load/impact is placed on the outside portion of the footpad.
After a call to Confluence's support line, they shipped out a new pair of Basic Slidelock Footraces within a couple days.
Hopefully the new pair will hold up better, although I have been contemplating replacing them with an aftermarket NRS set, which has metal rack and looks to be sturdier. At the end of the day, I really don't need to be able to quickly adjust the footpegs, so strength/reliability is more important than being able to quickly adjust the footpegs without having to reach inside the boat.
I've had my Dagger Alchemy for less than a year now and have really enjoyed this boat. Its got a ton of use so far. It rolls well and is long enough to get proper tracking, but short enough to be very maneuverable. For me, it fits nicely on the river, flat-water, and in the ocean, making it a very attractive boat. This was actually the first time taking it into the ocean and it was a friend that snapped the footpegs. Fortunately, the failure happened in about as safe a place as it could of and no-one was injured.
It is hard to say if they were already warped/broken by the time he started using it or if he positions his feet differently than me, which triggered the failure. In anycase, they should not have failed that easily.
My friend has an older Alchemy that he has had for several years and has not had any issues with that or his other boats. His footbraces are similar to mine, however the foot peg on his boat is slightly smaller than mine
Below is a gallery of the failure, as well as some of the affected footbrace's
Affected Boats(Per Dagger/Wilderness Systems Website)
Dagger Boats: Alchemy, Roam
Wilderness Systems Boats: Tempest (excluding PRO models) , Zephyr (excluding PRO models), Focus, Polaris 180, Tsunami (excluding PRO models), Pamlico 135/140, Tarpon 140/160, Thresher 140/155, Any 2015 Course Control Rudder Model/Configuration